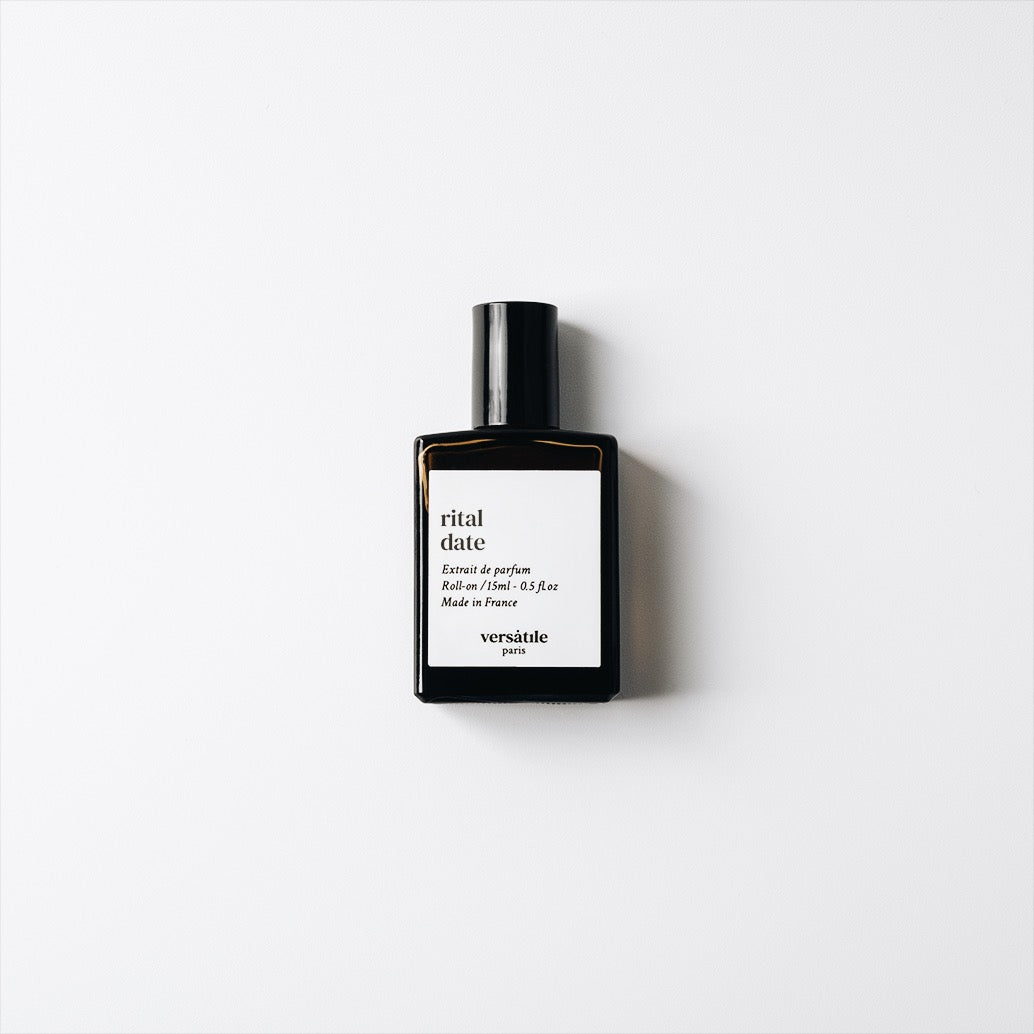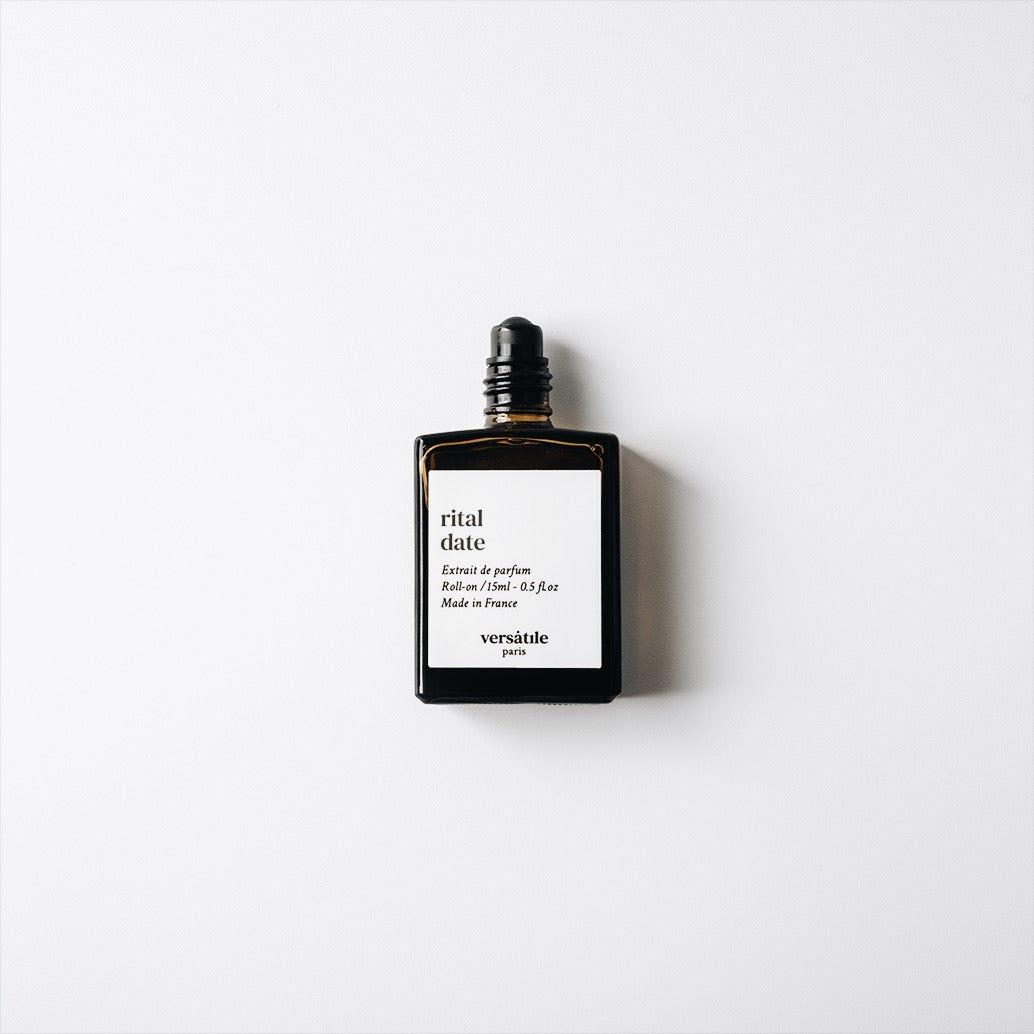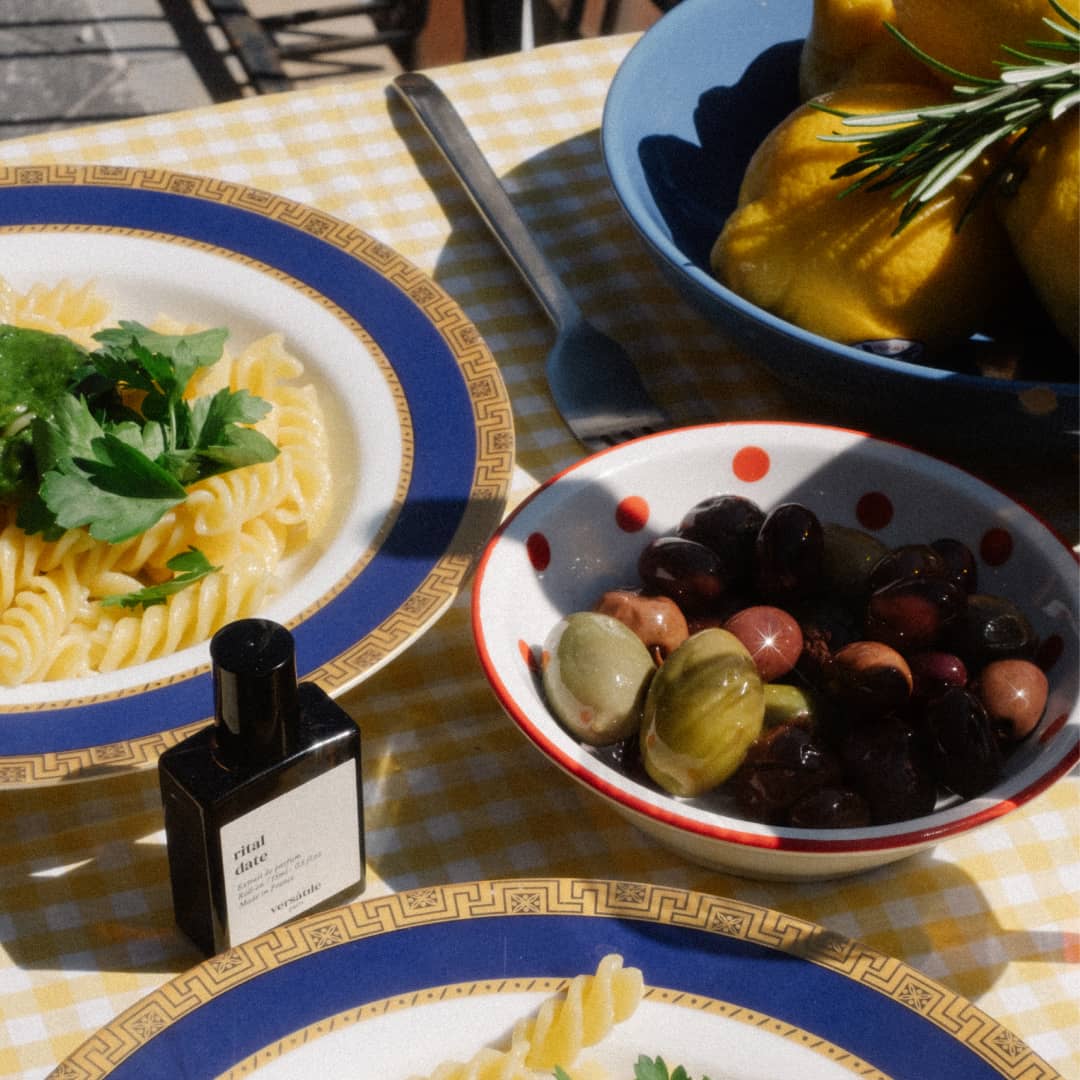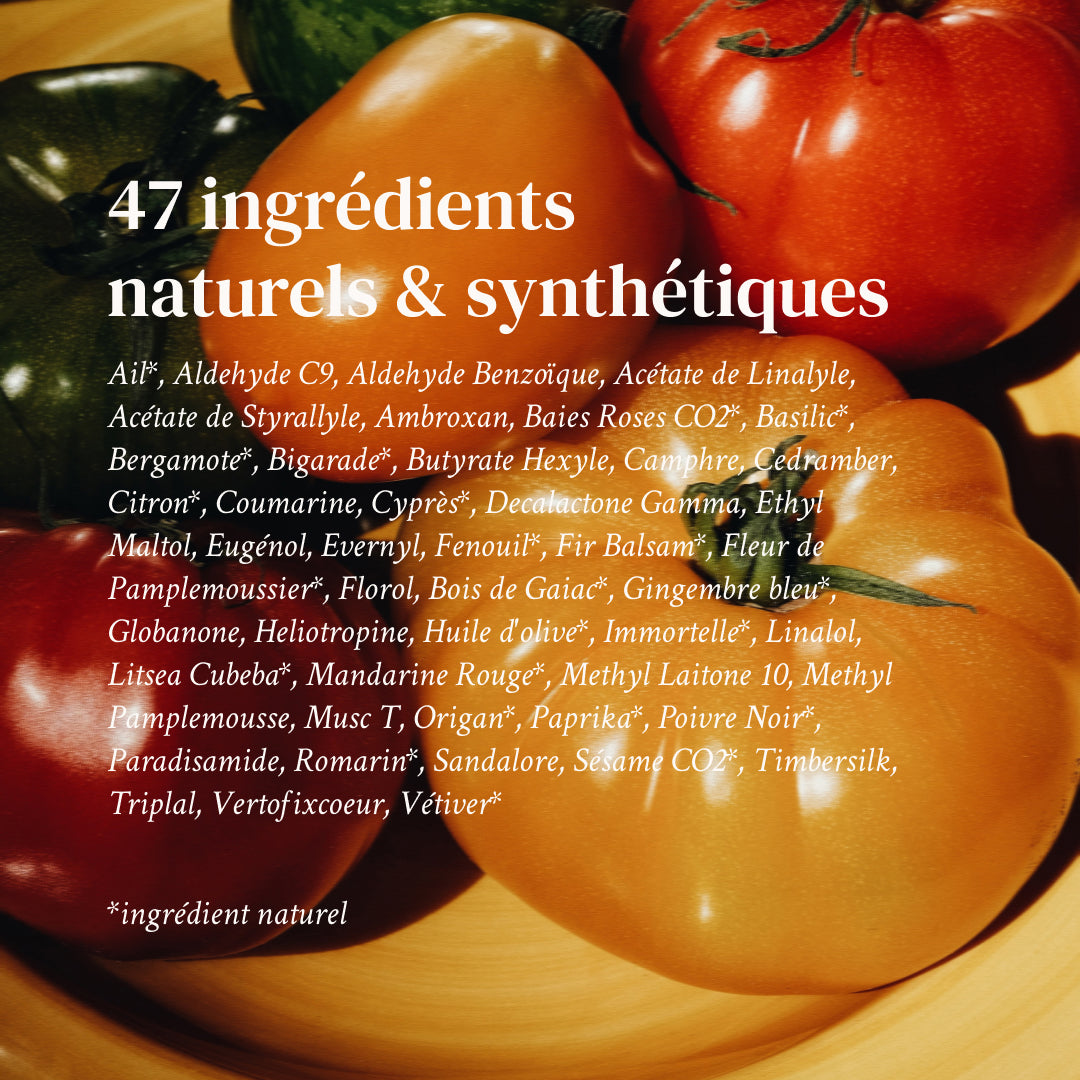 Regular price
€0,00 EUR
Sale price
€45,83 EUR
Unit price
per
Sale
Sold out
Perfume extract 15ml, concentrated at 38%
Aromatic. Fresh. Pesto. Tasty. Zesty.
Limoncello. Sweet. Pistachio. Creamy.
This perfume smells good, it's original, alcohol-free, genderless & vegan.
Each perfume is delivered with its sample
View full details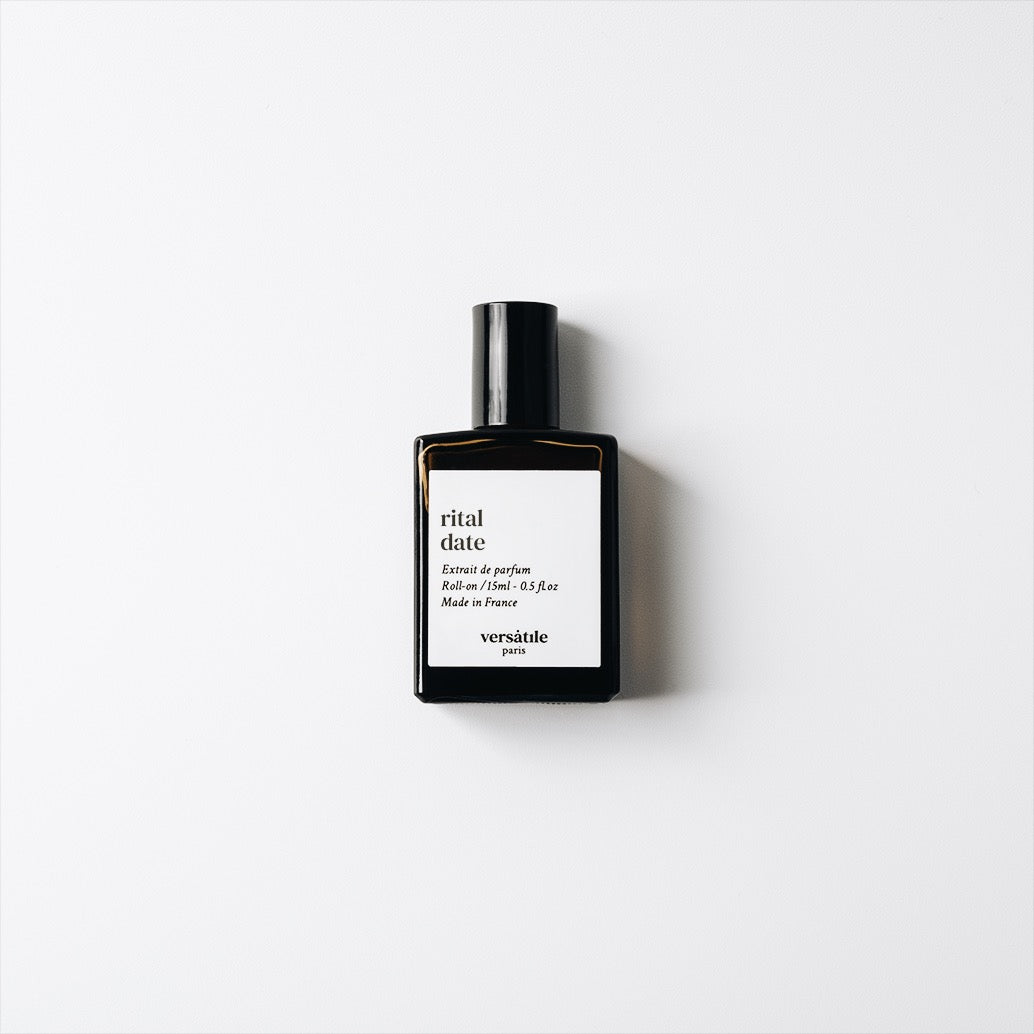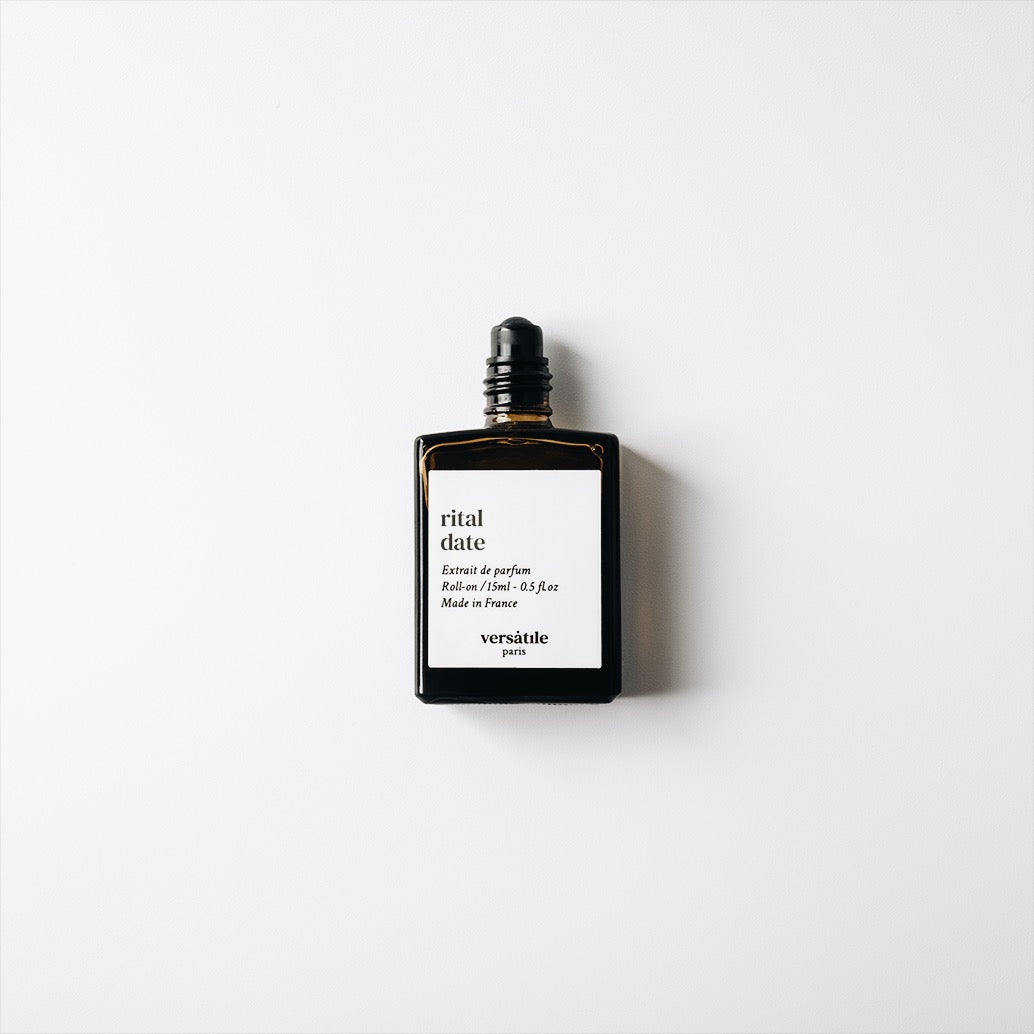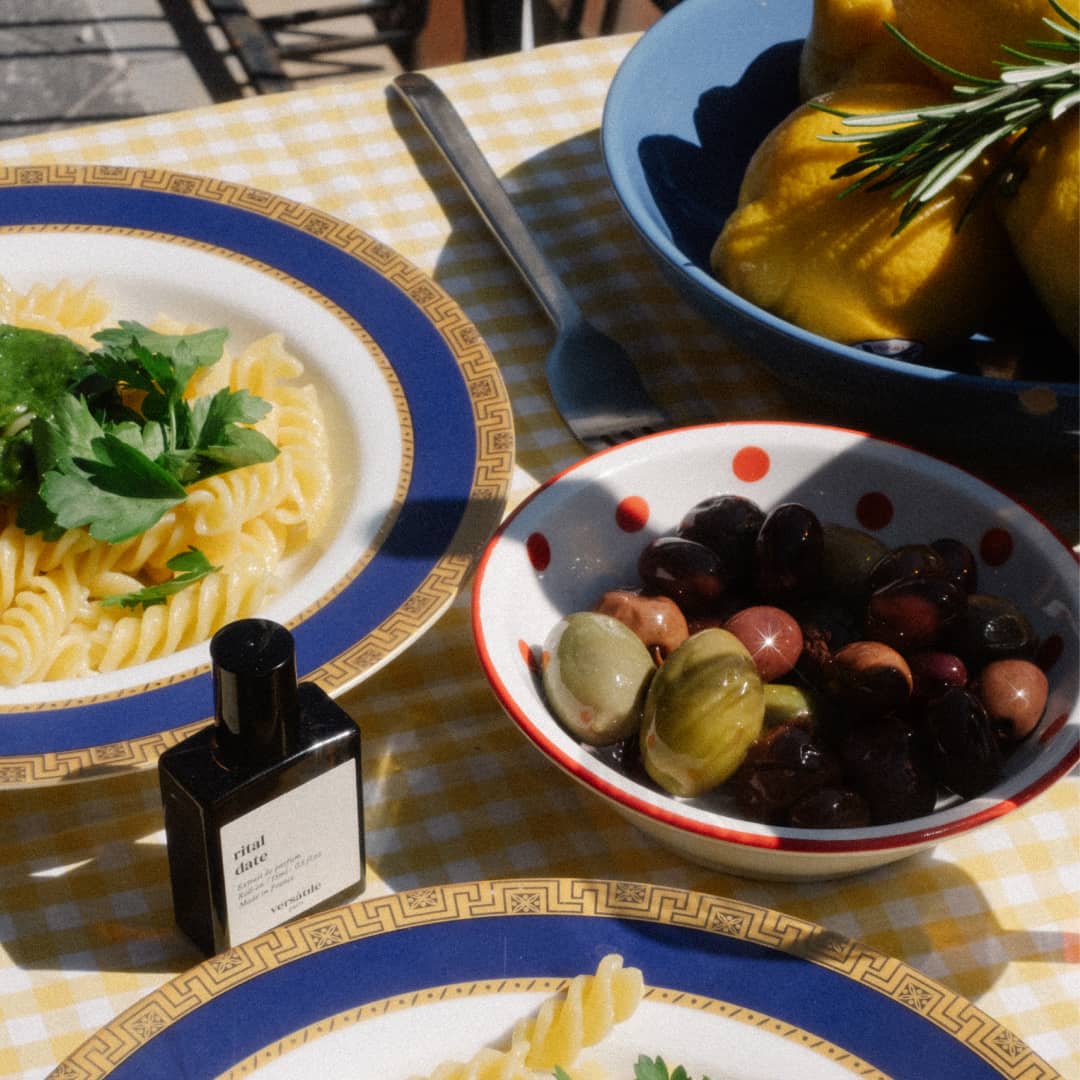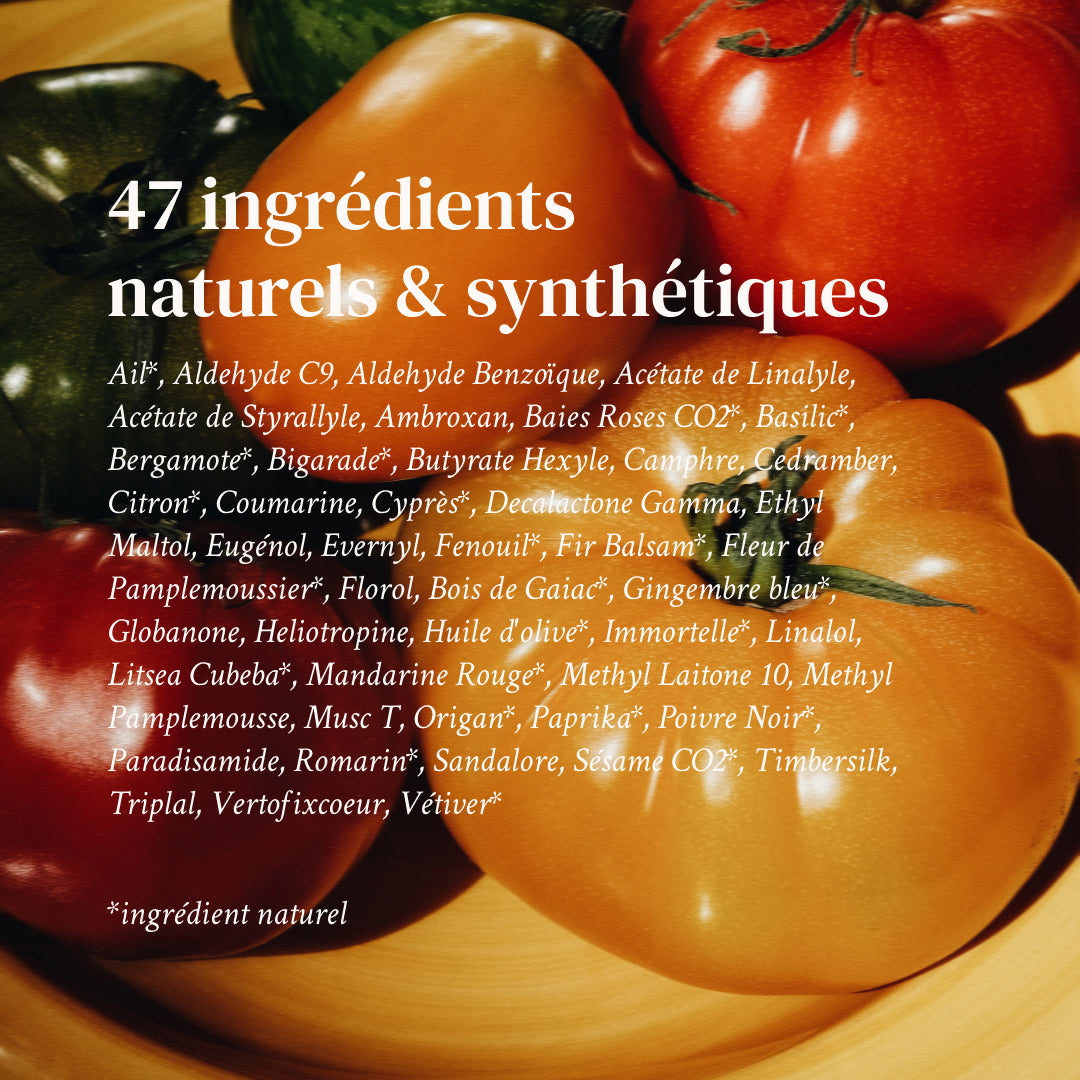 ALCOHOL-FREE
VEGAN & CRUELTY FREE
CLEAN
SUSTAINABLE
MADE IN FRANCE
YOUR NEW SCENTED RITUAL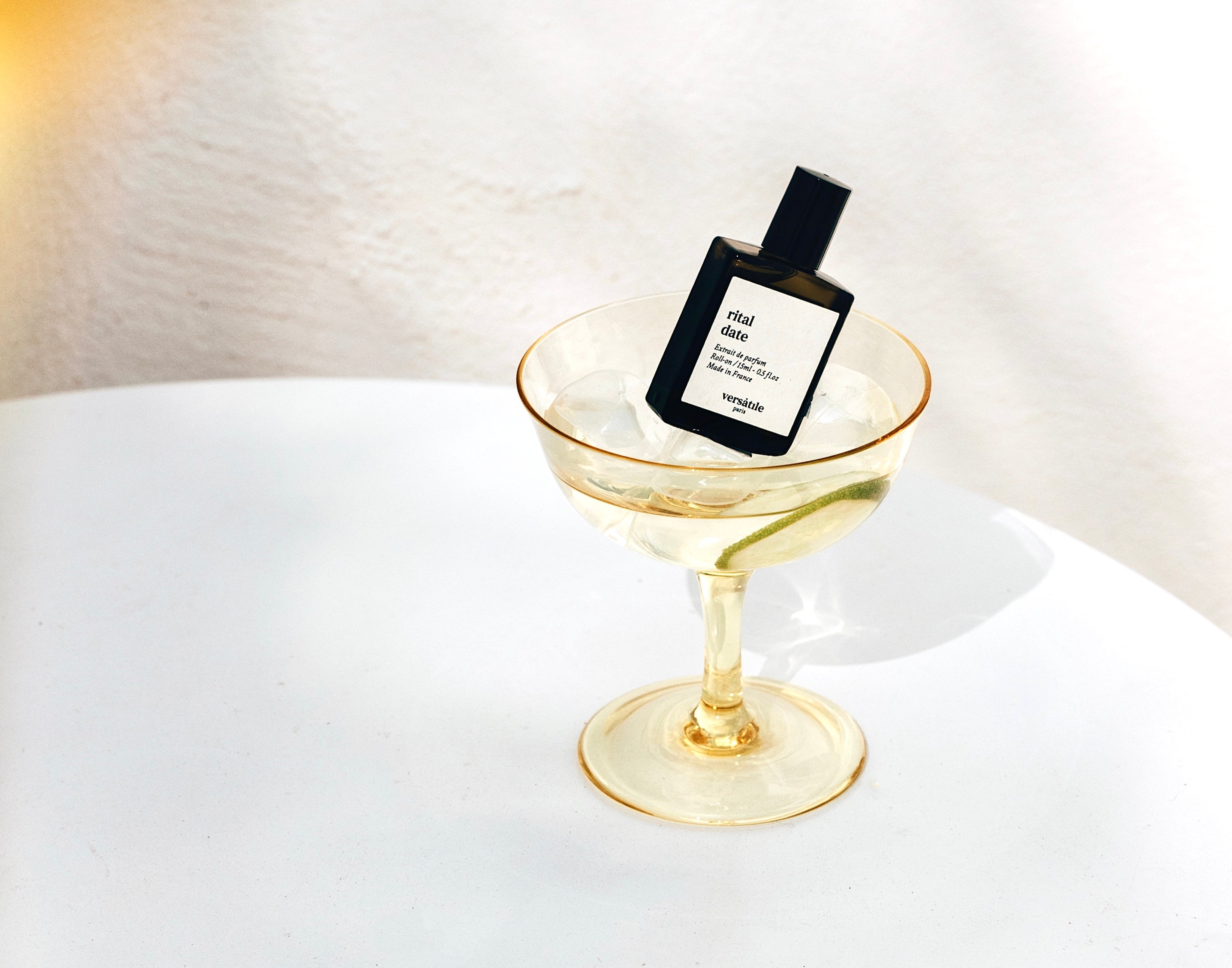 DETAILS

ROLL-ON:
A sensorial and delicate gesture, a versatile fragrance that will evolve according to your skin

NOMAD FORMAT:
It's not the size that matters: mini format, maxi concentrated. Where you want, when you want.

HEALTHY FORMULA:
Free from alcohol, BHT/BHA, UV filters, dyes, CMR, additives

DURATION OF USE :
4 to 6 months *based on one to two applications/day*
APPLICATION TIPS


1. Unscrew the perfume cover (do not pull)

2. Roll the ball on your skin (not on clothes)

3. Rub your perfume to heat it so it adapts to your skin
INCI

Prunus Amygdalus Dulcis (Sweet Almond) Oil, Parfum (Fragrance), Triticum Vulgare (Wheat) Germ Oil, Tocopherol, Limonene, Linalool, Citral, Coumarin, Eugenol, Geraniol, Citronellol, Isoeugenol
PERFUMERS

VERSATILE x FLAIR // Independent creative studio

Amélie BOURGEOIS - Co-Founder & Perfumer (FLAIR)

Camille CHEMARDIN - Junior Perfumer (FLAIR)

Elia CHICHE - Junior Perfumer (FLAIR)

Our perfumers have imagined a Neo Citron. A duality between aromatic freshness and a sparkling but delicious citrus. Vegetable (pesto accord), Italian ingredients (fennel, olive oil, oregano, cypress) and pistachio ice cream. Very appetizing, fiery, hot, addictive.

Seductive but not clingy
FORMULA

Our perfume is made up of a mixture of vegetable oils (62%) and a perfume concentrate (38%):

Prunus Amygdalus Dulcis Oil (Spain): Sweet Almond vegetable oil, renowned for its moisturizing and soothing properties.
Perfume - Fragrance (Grasse): The appellation that brings together everything but which never reveals itself! Our perfume contains 47 natural (🌱) and synthetic (🔬) ingredients

HEAD :

🌱 Garlic Essence - China
Spicy: Chili, Smoked

🔬 Aldehyde C9
Aldehyde: Zesty, Green

🔬 Benzoic Aldehyde
Balsamic: Almond, Cherry

🔬 Linalyl Acetate
Floral: Bergamot, Lavender

🔬 Styrallyl Acetate
Green: Rhubarb, Grapefruit

🌱 Pink Berries CO2 - India
Spicy: Peppery, Terpenic

🌱 Basil Essence - Egypt
Anise: Aromatic, Fresh

🌱 Bergamot Essence - Italy
Citrus: Tea, Zesty

🌱 Bigarade Essence - Italy
Citrus: Orange, Zesty

🔬 Camphor
Aromatic: Eucalyptus, Peppery

🌱 Lemon Essence - Italy
Citrus: Zesty, Citrusy

🌱 Cypress Essence - Spain
Aromatic: Pine, Incense

🔬 Eugenol
Spicy: Clove, Vanilla

🔬 Linalool
Floral: Lavender, Zesty

🌱 Litsea Cubeba Essence - China
Aromatic: Lemongrass, Verbena

🌱 Red Mandarin Essence - Brazil
Citrus: Fruity, Orange

🔬 Methyl Grapefruit
Fruity: Grapefruit, Sparkling

🌱 Oregano Essence - Balkans
Aromatic: Thyme, Animal

🌱 Paprika Essence -
Spicy: Pepper, Dry

🌱 Black Pepper Essence - India
Spicy: Hot, Fresh

🔬 Paradisamide
Fruity: Passion, Blackcurrant

🌱 Rosemary Essence - Morocco
Aromatic: Lavender, Fresh

🔬 Triplal
Green: Moist, Apple green

HEART :

🔬Ambroxan
Woody: Amber, Iridescent

🔬 Hexyl Butyrate
Fruity: Buttery, Fat

🔬 Coumarin
Balsamic: Almond, Floral

🔬 Decalactone Gamma
Fruity: Peach, Coconut

🌱 Fennel Essence - France
Aromatic: Aniseed, Spicy

🌱 Fir Balsam Absolute -
Woody: Softwood, Pine

🌱 Grapefruit Blossom Absolute - Morocco
Floral: Orange, Zesty

🔬Florol
Floral: Rosy, Watery

🌱 Blue Ginger Essence - Madagascar
Spicy: Peppery, Citrusy

🔬 Heliotropin
Balsamic: Cherry, Almond

🌱 Olive oil - Spain
Fruity: Green olive, Zesty

🔬 Metyl Brass 10
Woody: Coconut, Sandalwood

BOTTOM :

🌱 Gaiac Wood Essence - Paraguay
Woody: Smoky, Fat

🔬Cedramber
Woody: Cedar, Iridescent

🔬 Ethyl Maltol
Pyrogenic Leather: Caramel, Grilled

🔬 Evernyl
Woody: Moss, Dry

🔬 Globanone
Musky: Sweet, Milky

🌱 Immortelle Absolute - Italy
Amber: Animal, Liquorous

🔬 Musk T
Musky: Floral, Blackberry

🔬 Sandalore
Woody: Sandalwood, Powdery

🌱 Sesame CO2 - France
Gourmet: Roasted, Peanut

🔬Timbersilk
Woody: Cedar, Amber

🔬 Vertofix Heart
Woody: Cedar, Iridescent

🌱 Vetiver Essence - Haiti
Woody: Hazelnut, Smoky

Triticum Vulgare Germ Oil (Italy): Wheat germ vegetable oil, renowned for its nourishing and softening properties.
Tocopherol (Spain): Anti-oxidant derived from vitamin E which serves to prevent rancidity of the oily base.
8 allergens in small quantities (less than 0.1%). They are present in natural ones or are used alone, as synthetic notes.
3%
profits donated to the French RUBAN ROSE association, in aid of breast cancer research
SENSORIAL
Application directly to the skin using a roll-on format.
CLEAN
Alcohol-free perfumes, with transparent and healthy formulas for all skin types.
SUSTAINABLE
Responsible materials, optimized product and european production
Fresh and sparkling
A nice scent of fresh lemonade with herbs. Just sits too close to my skin without great projection
Thanks for you review Sergi !
✨ - Camille
L'italie dans un flacon, quelle merveille!!
Le bonheur d'un voyage en Italie avec ce parfum incroyable, plein de souvenirs qui remontent à chaque fois que je le sens... vous avez réussi à sublimer tout une culture sans jamais tomber dans les clichés, et je vous en remercie! La tenue est superbe, le concept roll-on génial, packaging épuré et très class, format idéal pour l'avoir toujours dans un sac...quoi dire d'autre? vous êtes au TOP!
Votre commentaire nous touche beaucoup, merci Marco !
✨ - Camille
Thank you so much David ! Love you - Coralie ✨
Topissime !
Acheté après avoir testé l'échantillon dans le coffret découverte. Forcément il me plaît, je l'ai choisi. Me restait essentiellement à tester l'application bille. J'aime beaucoup ! C'est rapide pratique. Alors certains diront qu'on ne peut pas en mettre sur les vêtements, oui c'est vrai. Mais il sent bien malgré tout et surtout on peut changer de parfum le lendemain et remettre la même veste sans risquer le "no match". J'ai reçu entre temps le mail disant en résumé : application au soleil sans problème. Du coup j'ai testé également, Nikel aucune tâche dûe au soleil sur ma peau (j'ai toujours une protection UV, parque c'est mieux, pas spécialement pour le parfum 😅). Et le must une odeur qui se développe au soleil quand il chauffe, un régal 🥰. Il est devenu illico presto LE parfum de mes vacances !
Un immense merci Séverine pour ce superbe retour d'expérience, nous sommes ravis de nous savoir entre de bonnes mains ✨ - Coralie
A QUESTION, CAN WE HELP YOU?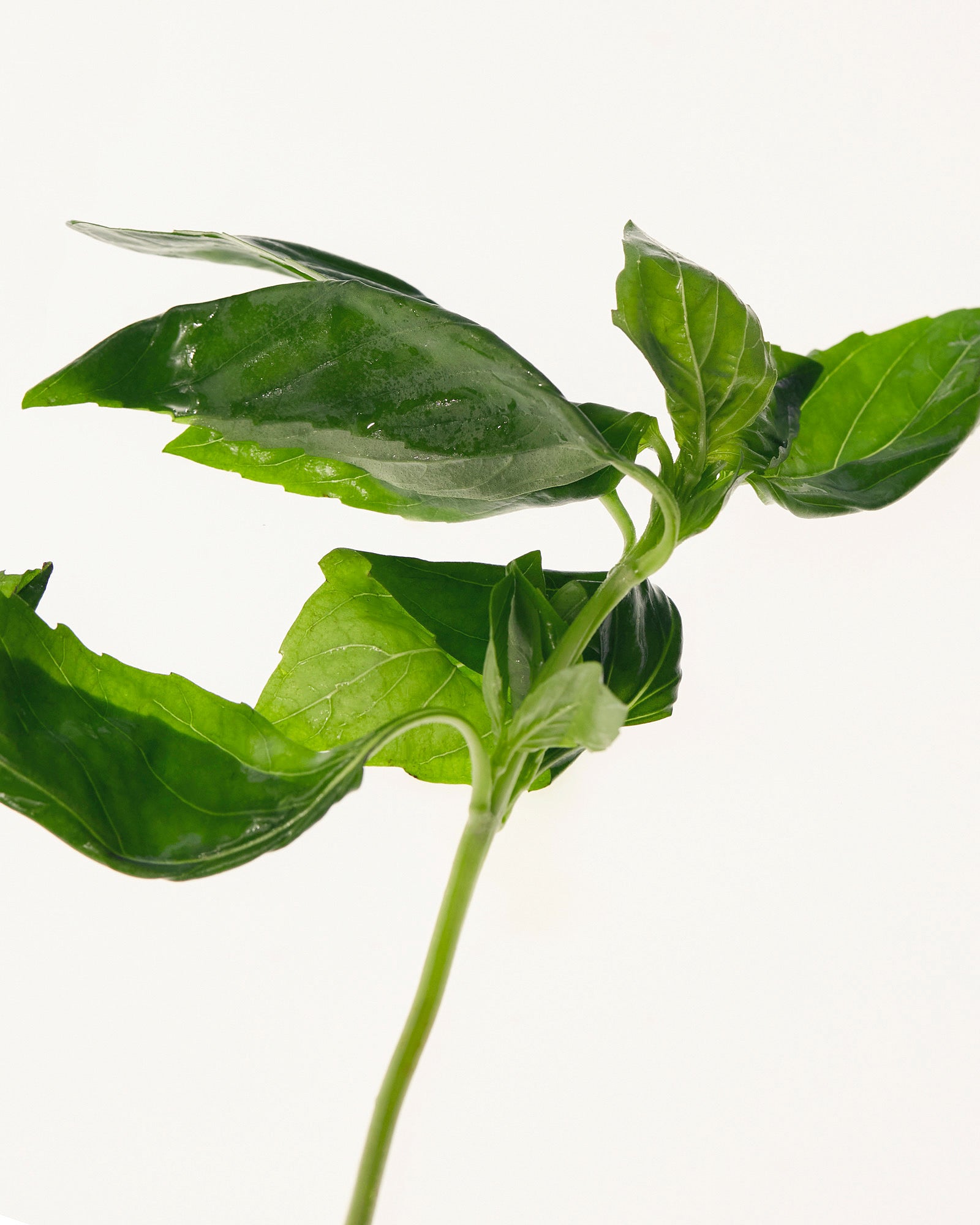 WHAT ARE THE SIZES?

It's not the size that matters: 15ml!

Do you find that little? We wanted a light and practical bottle, THE ideal size to always have with you.

Are you afraid of finishing it too quickly? No panic, our perfumes are ultra-concentrated with 0 product loss (unlike the spray which perfumes clothes, you and the air).

Our 15ml bottles have a shelf life of 4 to 6 months. * on a basis of one to two applications/day *
WHERE TO APPLY YOUR PERFUME?

No rules!

Be and feel free to
perfume yourself wherever you want.

We recommend (but do not require) that you apply your roll-on (alcohol-free) directly to the skin, wherever you want!

Do we give you ideas? On pulse points such as the neck, wrists, elbow, behind the ears but also on the ends of the hair...
WHAT IS THE COMPOSITION OF THE PERFUMES?

While the formulas are still considered a trade secret, we decide to reveal ours to you.

We have made available all the necessary information to easily understand your product.

For us, transparency is a first step towards information for all.

To find out even more, click here.
HOW LONG LASTING ARE THE PERFUMES?

What is the point of a perfume that smells nothing and doesn't last on the skin?

Perfume Extract is the most concentrated form that exists in perfumery (20-40%).

Concentrated between 30-38%, our perfumes will diffuse and evolve on your skin throughout the day.
WHERE ARE PERFUMES MADE?

Our perfumes are designed in Paris, produced in Grasse and assembled in the Paris region.
HOW TO CHOOSE YOUR PERFUME ?

We know it's difficult to choose a perfume online. We describe our perfumes, with instinctive names, as precisely as possible.

If, despite this, you are in doubt, we recommend that you opt for our discovery box to explore our collection at home.