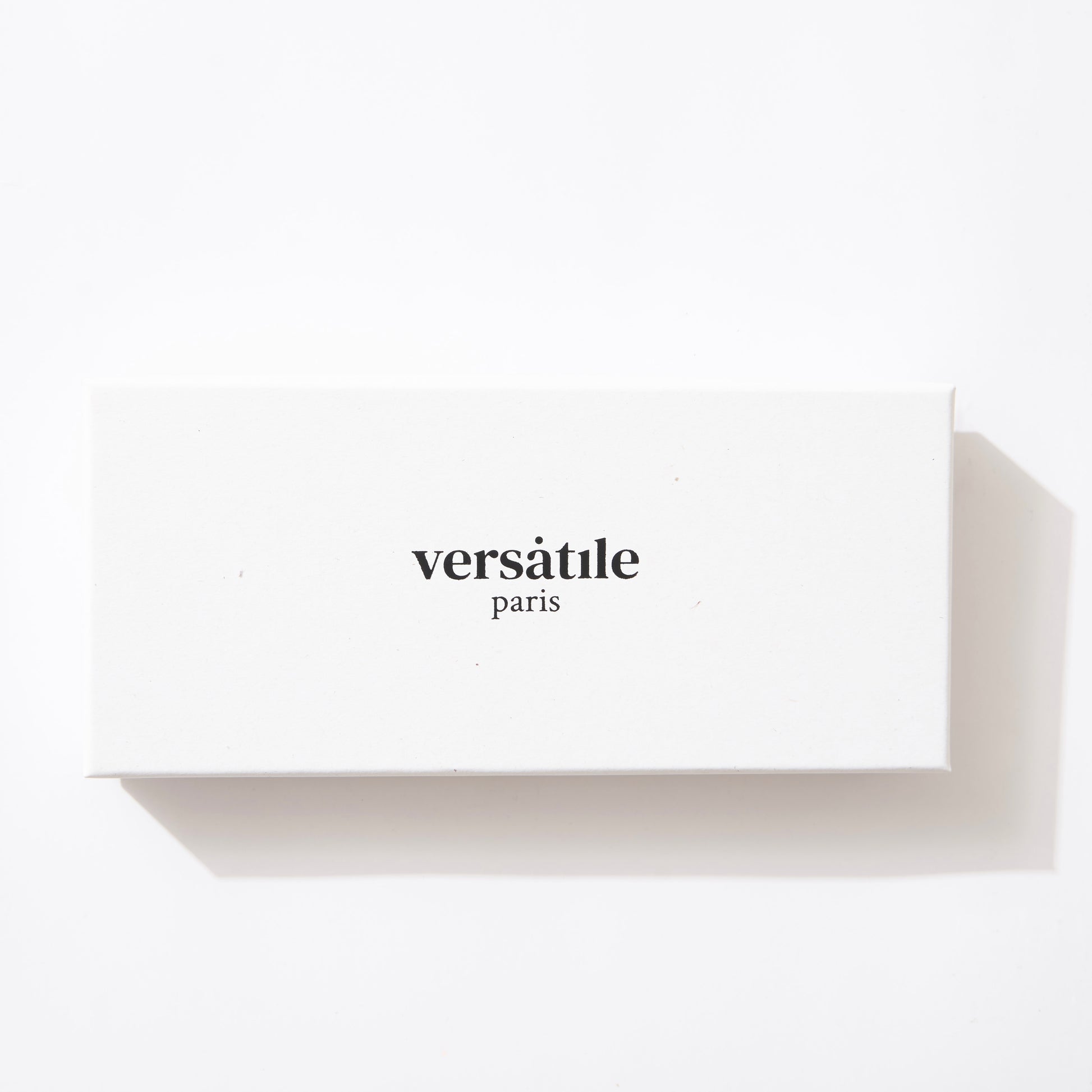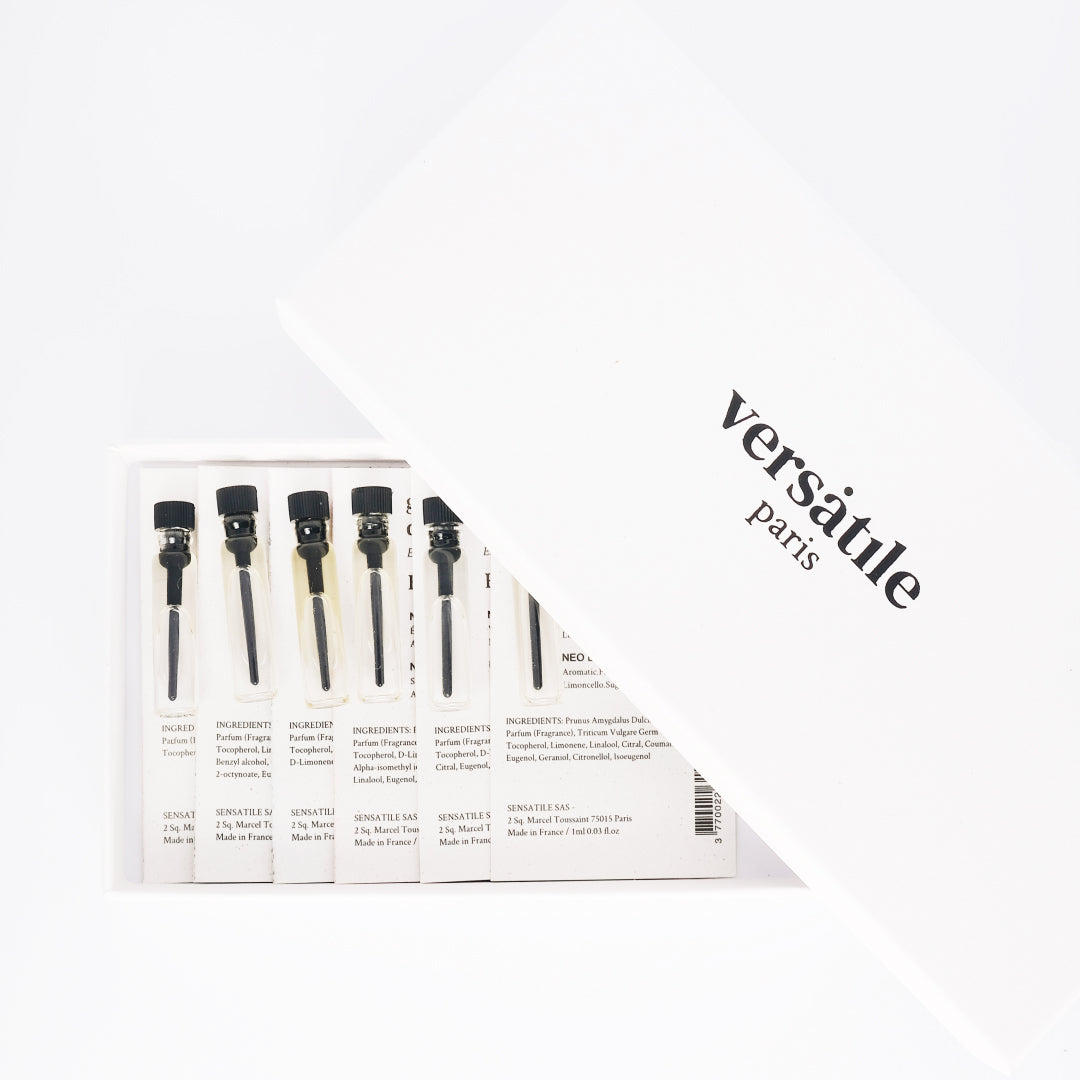 Regular price
Sale price
€20,83 EUR
Unit price
per
Sale
Sold out
Choosing is giving up.
Ok, but buying a perfume that you like, it's better.
Explore the entire collection at home, at your own pace, with our discovery box.
8 different olfactory universes, you will (certainly) find what you are looking for !
THE OFFER INCLUDES:
Our 8 Extracts in 1ml sample format
A reduction of 15€,

valid

for the purchase of a 15ml

on our site
This box is non-exchangeable and non-refundable.
View full details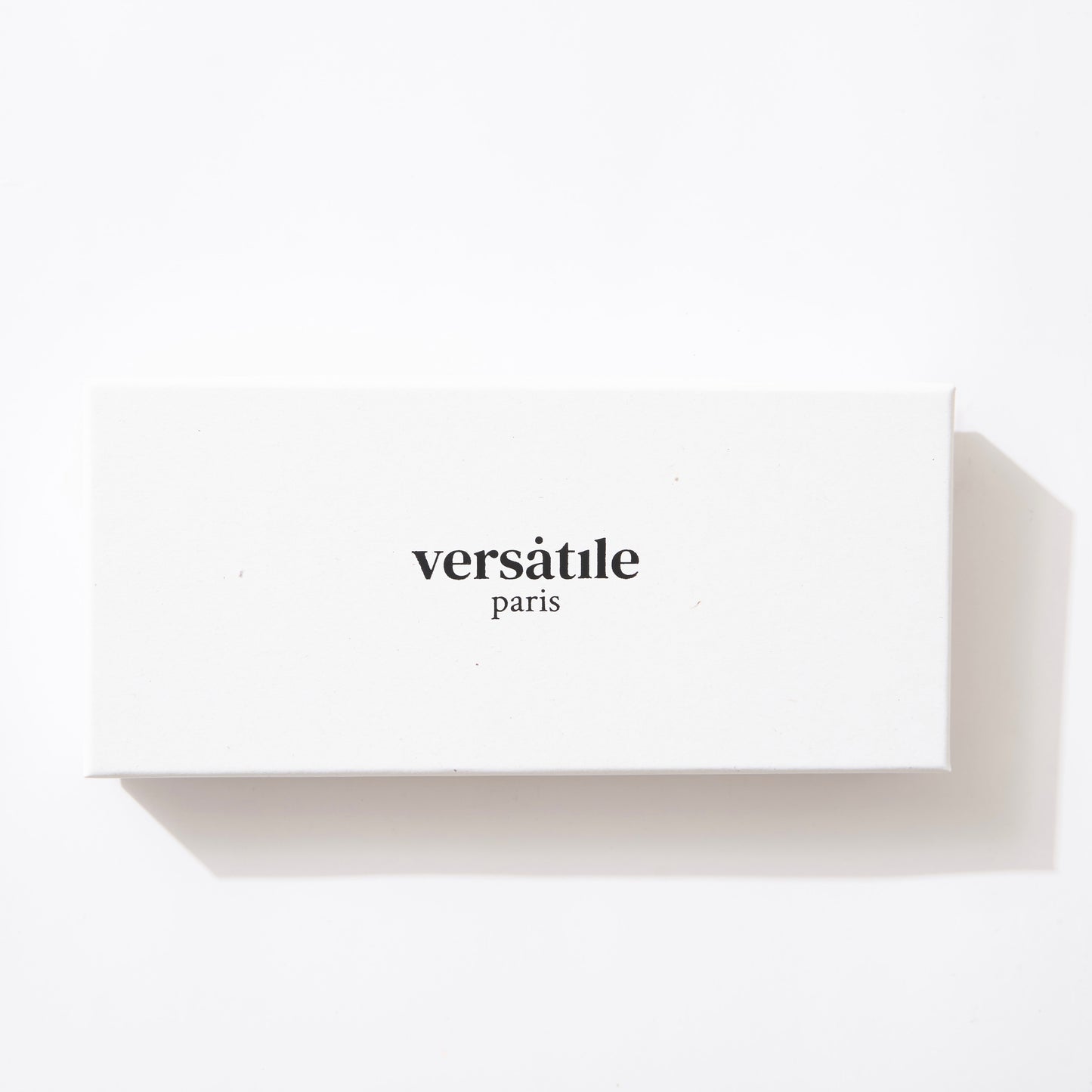 ALCOHOL-FREE
VEGAN & CRUELTY FREE
CLEAN
SUSTAINABLE
MADE IN FRANCE
YOUR NEW SCENTED RITUAL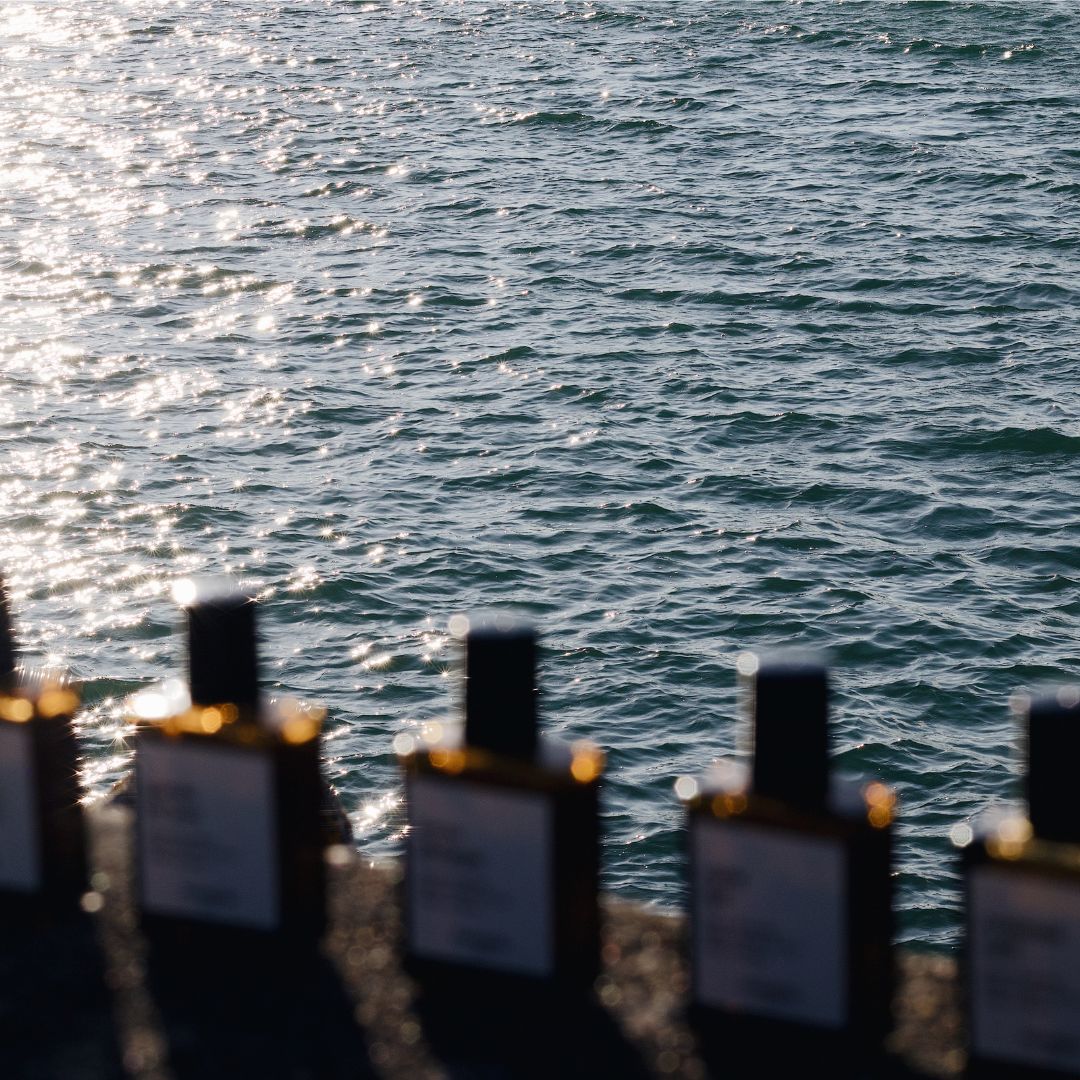 HOW DOES IT WORK?

Receive the box and test all our fragrances using the samples.
Once you have made your choice, whether for one, two, three, or more of our perfumes, use the €15 reduction.
Valid upon purchase of a perfume.

* This discount is valid for one month.
USAGE TIPS

1. Pull the sample stick

2. Rub the stick on your skin (not on your clothes).

3. Rub in your fragrance to warm it up so that it adapts to your skin.

4. Smell and vote for your favourite !
THE PERFUMES

Our perfumes are original, genderless and vegan.

8 moments inspired by (real) everyday life,
8 new olfactory universes.

CROISSANT CAFÉ -
CONCENTRATION: 32%

Coffee.Cappuccino.Gourmand.Tonka.
Creamy.Toasted.Woody.Buttery.Warm.

CULOT THÉ -
CONCENTRATION: 30%

Fresh.Jasmine.Citrus.Tonic.
Apricot.Tea.Spicy.Wasabi.Sweet.

ACCRODISIAQUE -
CONCENTRATION: 30%

Vegetal.Dill.Blueberry. Rose.
Matcha.Sensual.Leather.Smoky.Animal.

GUEULE DE BOIS -
CONCENTRATION: 30%

Spicy.Peppery.Incense.Rum.
Amber.Sandalwood.Suave.Warm.Woody.

DIMANCHE FLEMME -
CONCENTRATION: 35%

Green.Basil.Sparkling.Cardamom.
Milky.Almond.Vanilla.Musky.Sweet.

RITAL DATE -
CONCENTRATION: 38%

Aromatic.Fresh.Pesto.Lemon.Sweet.
Limoncello.Smooth.Pistachio.Creamy.

SEA, SUD & SUN -
CONCENTRATION: 33%

Fresh.Pastis.Fig.Iced.Neroli.
Solar.Musky.Salty.Marine.

NEW GOD BLESS COLA -
CONCENTRATION : 30%

Cola.Popcorn.Sweet.Vanilla.Sparkling. Addictive.Caramel.Warm.Gourmand.

The formulas of our perfumes are short (max. 47 ingredients VS more than 100 on average for "classic" perfumes). They are formulated without alcohol, without BHT/BHA, without colorants, without UV filters, without CMR, without ingredients of animal origin.
PERFUMERS

For this first collection of perfumes, we have partnered with the independent Studio FLAIR .

Our 8 Perfume Extracts were created by:

Amélie BOURGEOIS / Perfumer of "GUEULE DE BOIS", "ACCRODISIAQUE", "RITAL DATE"
Anne-Sophie BEHAGHEL / Perfumer of "CULOT THÉ" & "SEA, SUD & SUN"
Camille CHEMARDIN / Perfumer of "DIMANCHE FLEMME", "ACCRODISIAQUE", "RITAL DATE", "GOD BLESS COLA"
Elia CHICHE / Perfumer of "CROISSANT CAFÉ", "ACCRODISIAQUE", "RITAL DATE", "GOD BLESS COLA"
3%
profits donated to the French RUBAN ROSE association, in aid of breast cancer research
SENSORIAL
Application directly to the skin using a roll-on format.
CLEAN
Alcohol-free perfumes, with transparent and clean formulas for all skin types.
SUSTAINABLE
Responsible materials, optimized product and european production.
Belle surprise :)
Parfum génial et belle surprise gourmande au déballage :) j'apprécie l'humour et la modernité de votre marque, les petits budgets et la jeunesse ne se sentent pas exclus, à contre-courant d'une bonne partie de la parfumerie de niche. Que du fun !
Merci beaucoup pour votre retour Amandine !
✨ - Camille
Merci beaucoup Véronique !
✨ - Camille
The complete package!
I loved the tester kit - obviously the fragrances are just so qualitative, lovely, well rounded scents, but the Versatile team is just exquisite in their attention to detail - the fragrance descriptions and representative images are cool touches! Get it, you won't regret it!
Thanks a lot Renata !
✨ - Camille
Original délicieux et éthique
J'adore ce coffret mais je crois que les parfums à base d'huile ne tienne pas du tout sur moi, au bout de 3h je ne sens déjà plus rien malheureusement
Merci pour votre retour Sarah !
Nous sommes ravis d'apprendre que vous appréciez nos extraits de parfum.
Pour ce qui est de la tenue, la méthode d'application peut faire toute la différence. Nous recommandons les points chauds, tels que le cou, derrière les oreilles, dans le creux de la poitrine et sur les poignets.
N'hésitez pas à frictionner le parfum pour une meilleure diffusion.
Vous pouvez également hydrater votre peau au préalable avec un produit sans parfum et appliquer le parfum ensuite.
De plus, le format roll-on offre un meilleur résultat que la petite tige de l'échantillon.
✨ - Camille
A QUESTION, CAN WE HELP YOU?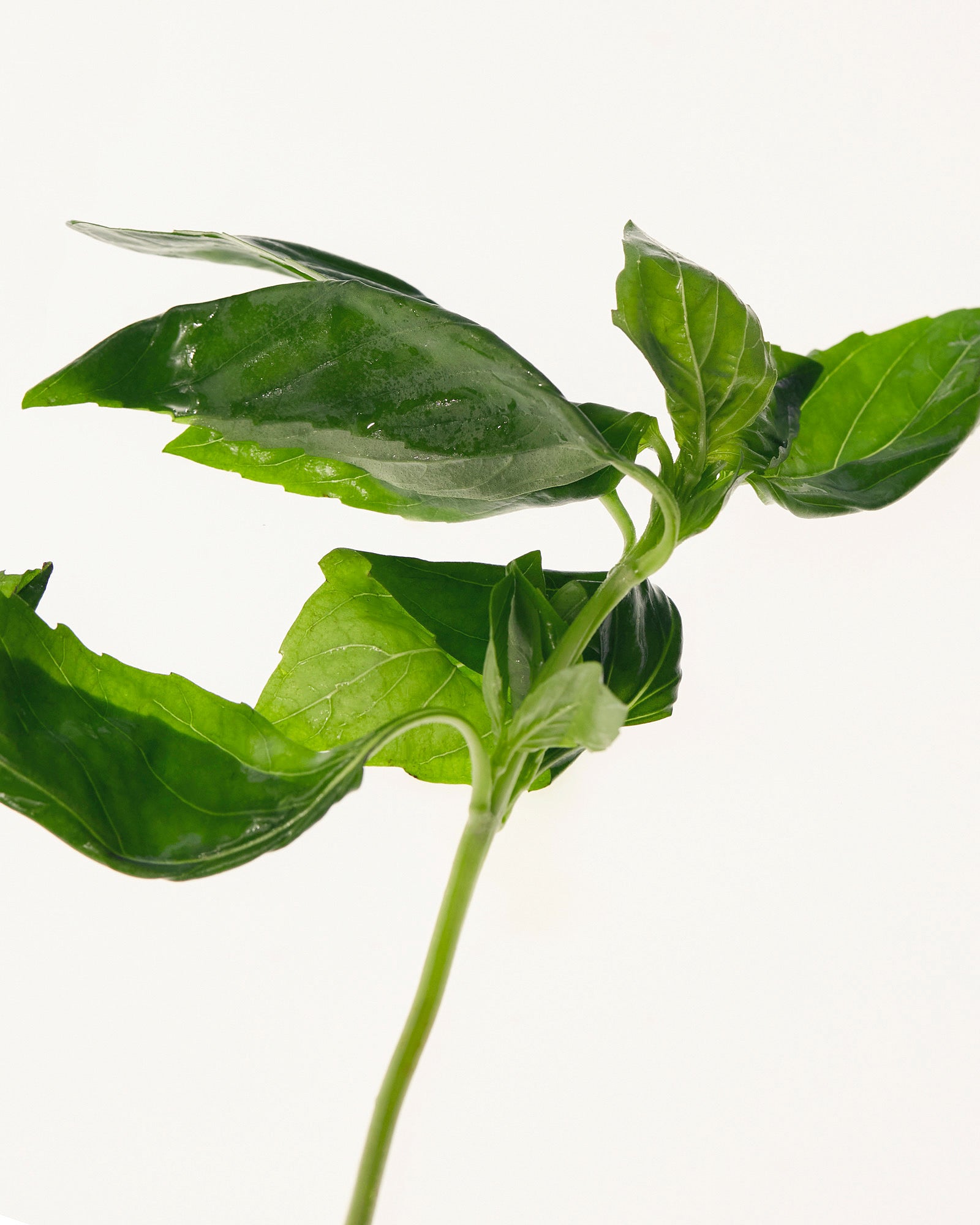 WHAT'S THE SIZES?

Size doesn't matter: 15ml and 1 ml for samples!

Do you find that's not enough? We wanted a light and practical bottle, THE ideal size to always have it with you.

Are you afraid of finishing it too quickly? No panic, our perfumes are ultra-concentrated with 0 product loss (unlike the spray which perfumes clothes, you and the air).

Our 15ml bottles have a shelf life of 4 to 6 months. * on a basis of one to two applications/day *
WHERE TO APPLY YOUR PERFUME?

No rules!

Be and feel free to perfume yourself whenever you want.

We recommend (but do not oblige) you to apply your roll-on (alcohol-free) directly to the skin, wherever you want!

Do you need more ideas? On pulse points such as the neck, wrists, elbow, behind the ears but also on the ends of the hair...
WHAT'S THE COMPOSITION OF THE PERFUMES?

While the formulas are still considered a trade secret, we decide to reveal ours to you.

We've made available all the necessary information to easily understand your product.

For us, transparency is a first step towards information for all.

To find out even more, click here.
HOW LONG LASTING ARE THE PERFUMES?

What's the interest of a perfume that smells nothing and doesn't last on the skin?

Perfume Extract is the most concentrated form that exists in perfumery (20-40%).

Concentrated between 30-38%, our perfumes will diffuse and evolve on your skin throughout the day.
WHERE ARE PERFUMES MADE?

All of our production is French.

Our packaging manufacturers come from France, near Europe and China for samples (no choice). No lies!

Perfume: France
Sweet Almond Oil: Spain
Wheat Oil: Italy
Glass bottle: Recyclable / Italy
PE cover and ball holder: Recyclable / Italy
Glass roll-on ball: Recyclable / Italy
Perfume labels: Recycled and recyclable / France
Perfume case: Upcycled and recyclable / Italy
Perfume card: Recycled and recyclable / France
Sample card: Recycled and recyclable / France
Perfume sample: Recyclable / China
Shipping box: Recycled and recyclable / France

The production of 15ml perfumes is done in the Paris region and the production of our 1ml samples is done in the Paris region in ESATs.

Our perfumes have a total weight of less than 100g and contain less than 3g of plastic
HOW TO CHOOSE YOUR PERFUME ?

We know how it's difficult to choose a perfume online. We describe our perfumes, with instinctive names, as precisely as possible.

If, despite this, you are in doubt, we recommend that you opt for our discovery box to explore our collection at home.