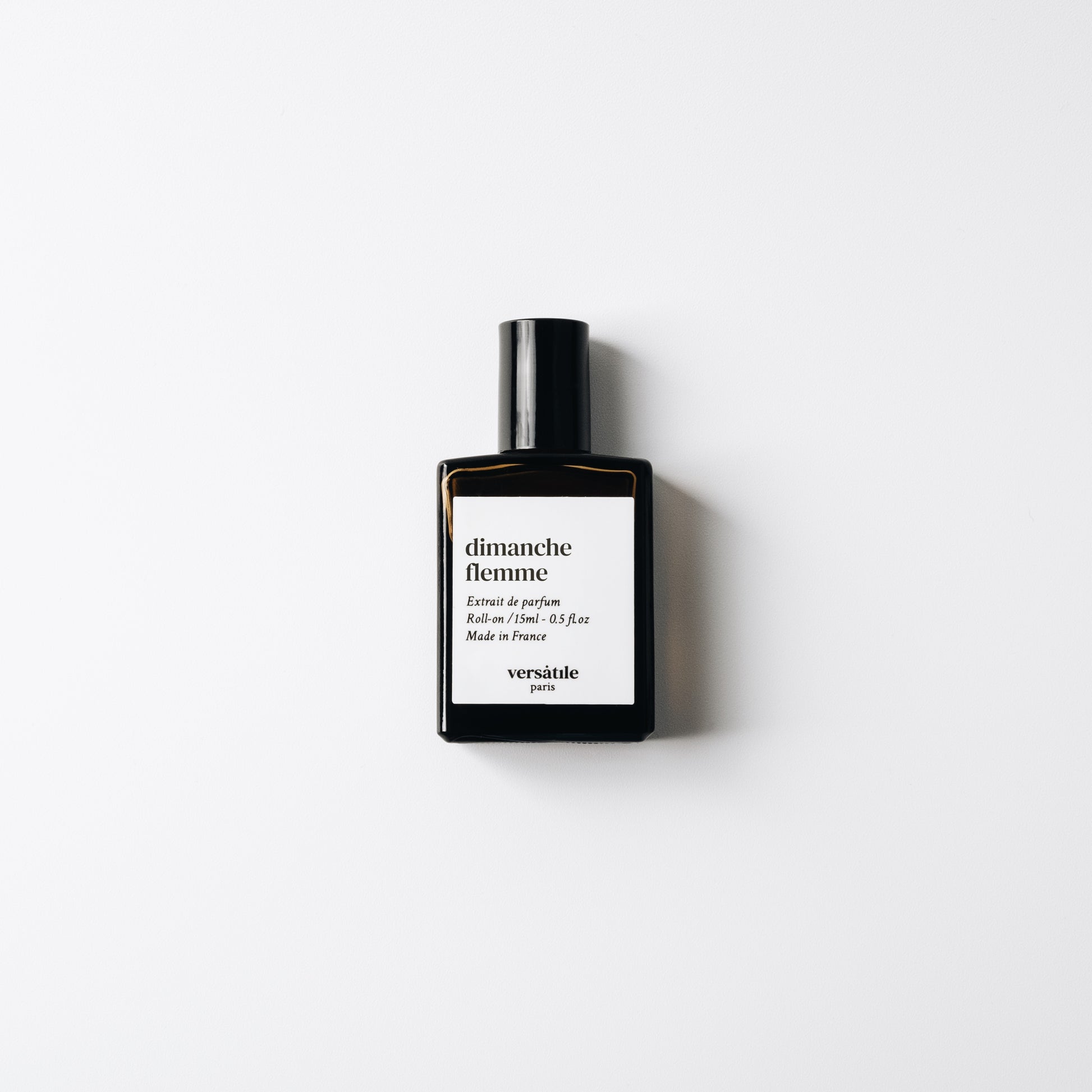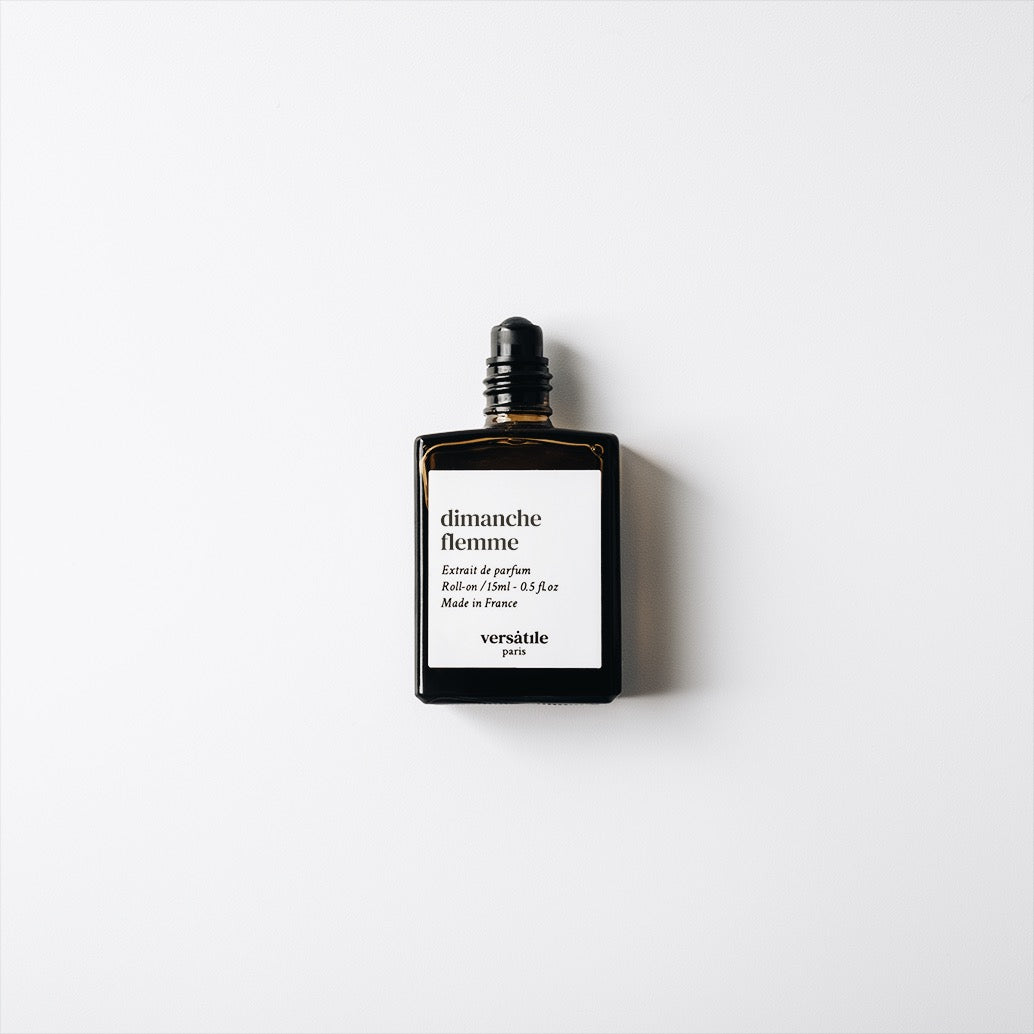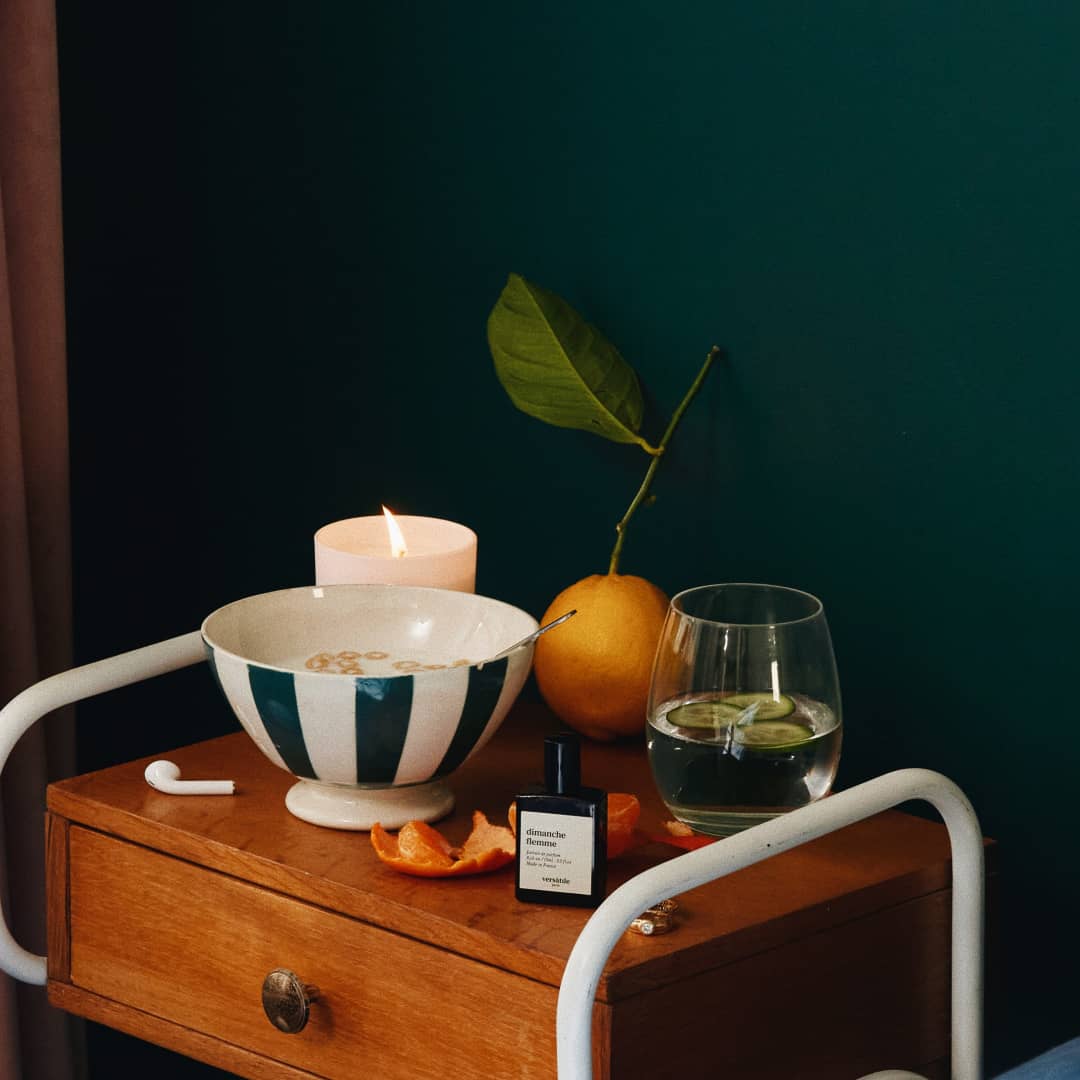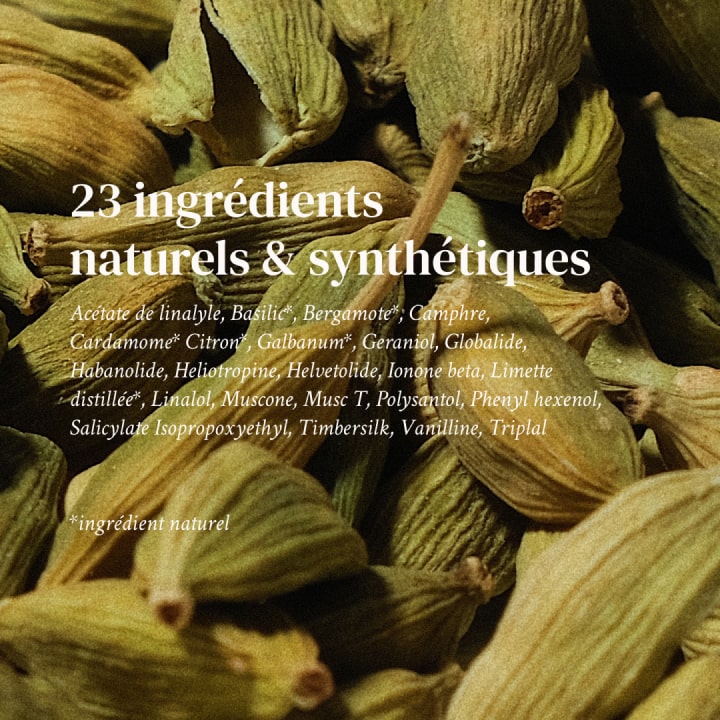 Regular price
€0,00 EUR
Sale price
€45,83 EUR
Unit price
per
Sale
Sold out
Perfume extract 15ml, concentrated at 35%
Green. Basil. Sparkling. Cardamom.
Milky. Almond. Vanilla. Musk. Sweet.
This perfume smells good, it's original, alcohol-free, genderless & vegan.
Each perfume is delivered with its sample

View full details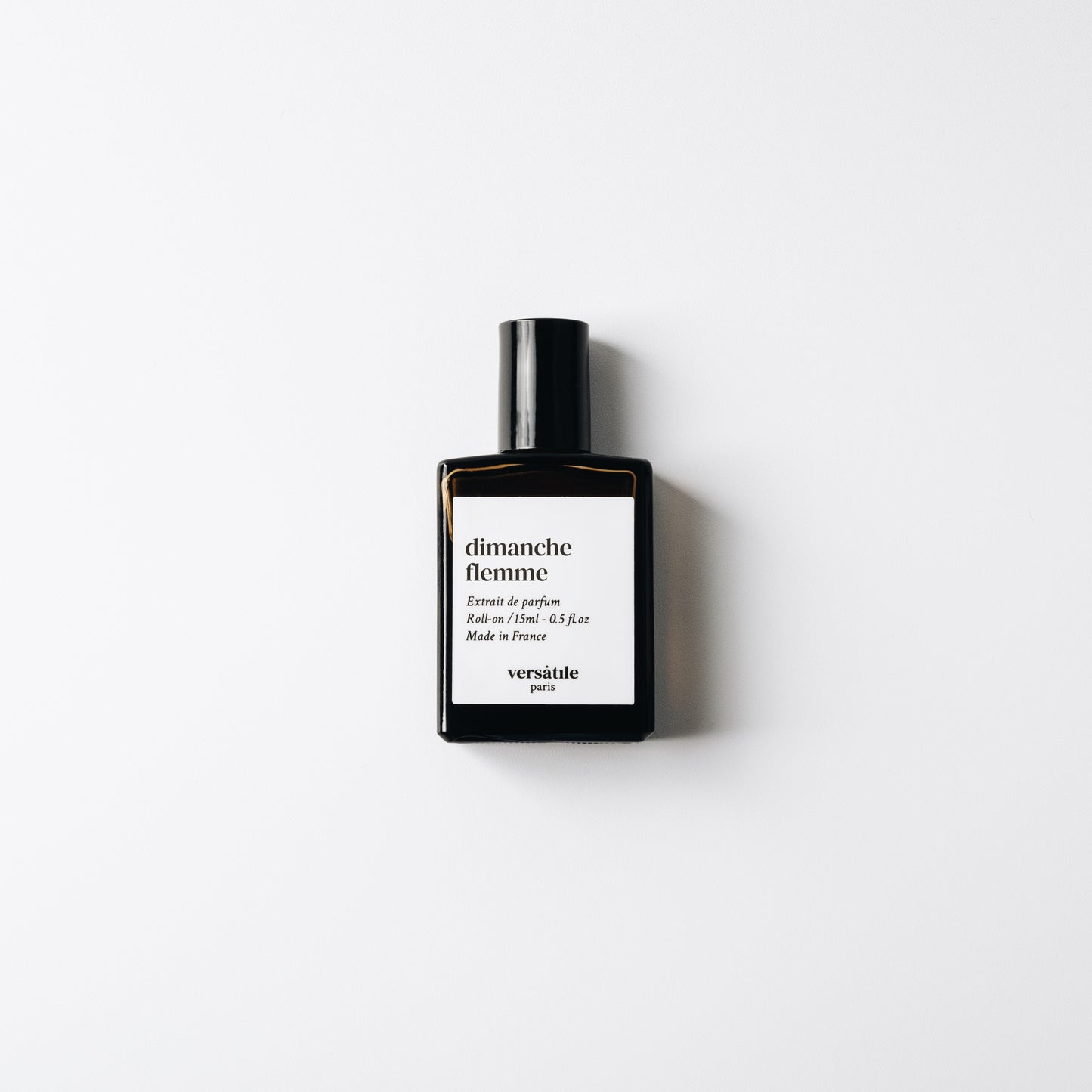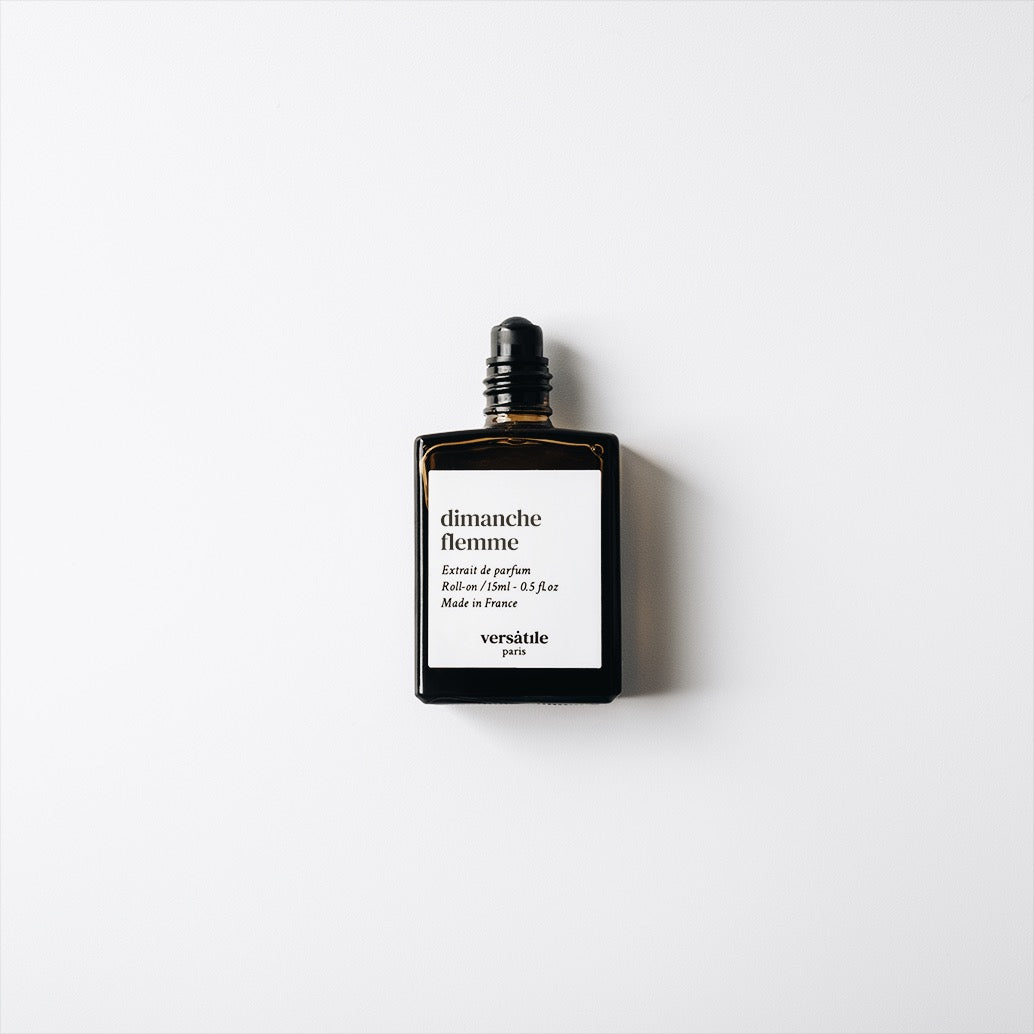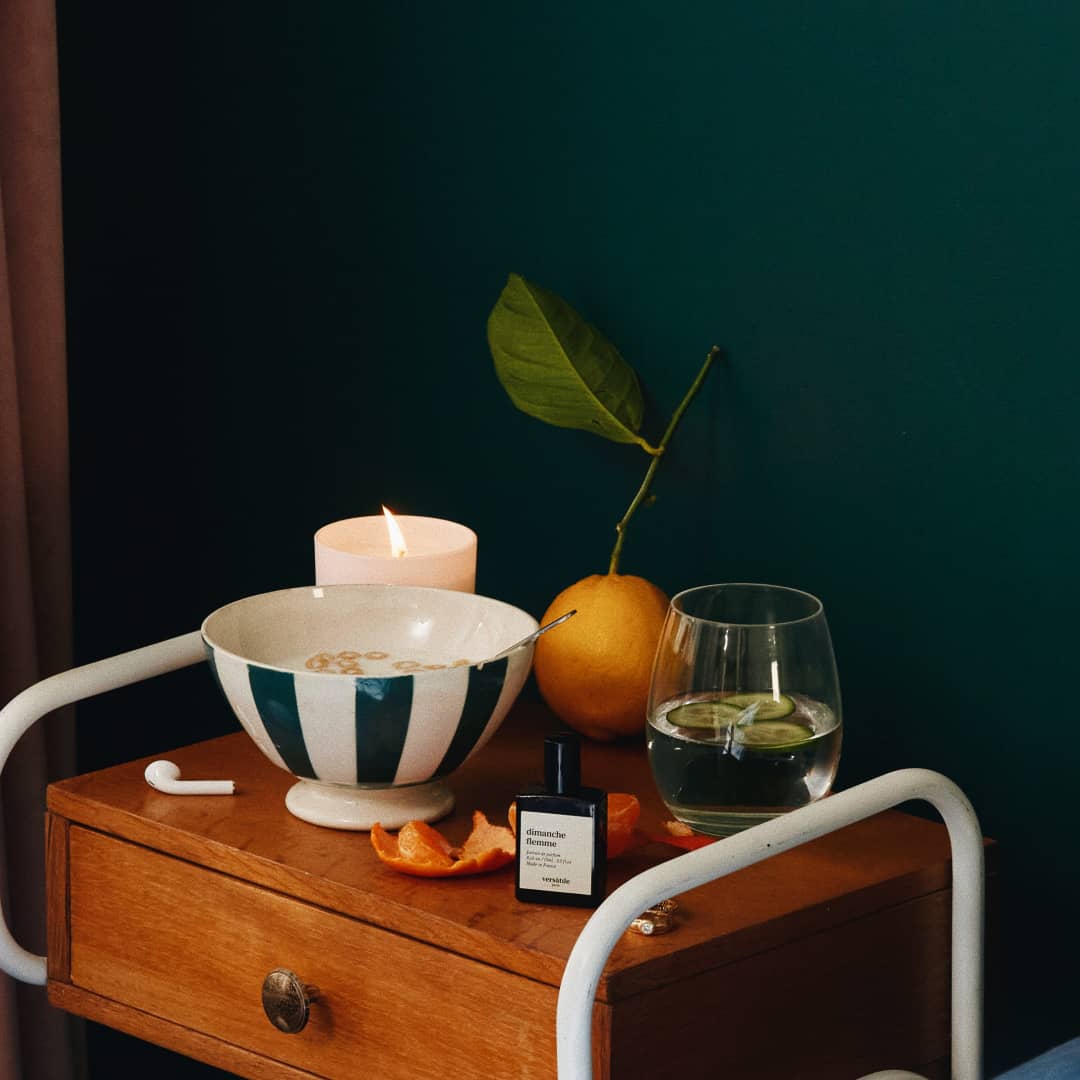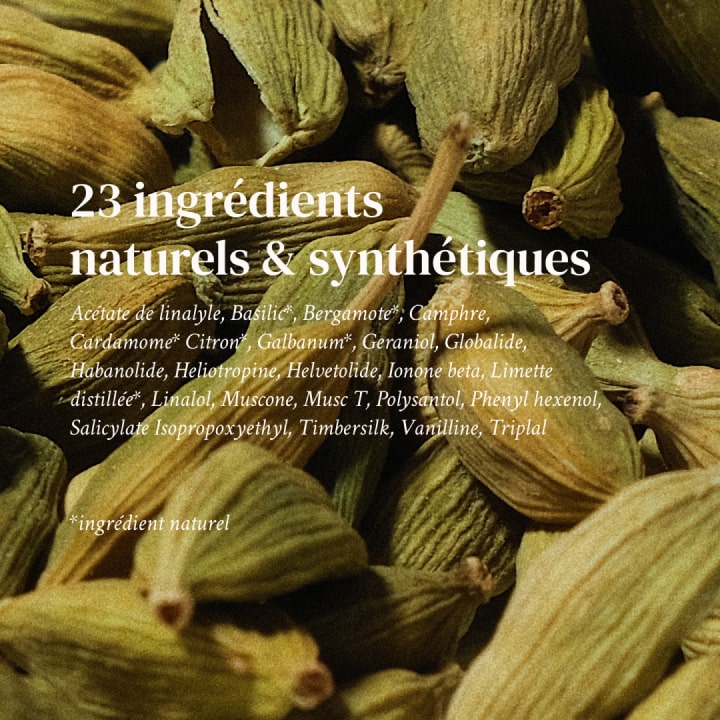 ALCOHOL-FREE
VEGAN & CRUELTY FREE
CLEAN
SUSTAINABLE
MADE IN FRANCE
YOUR NEW SCENTED RITUAL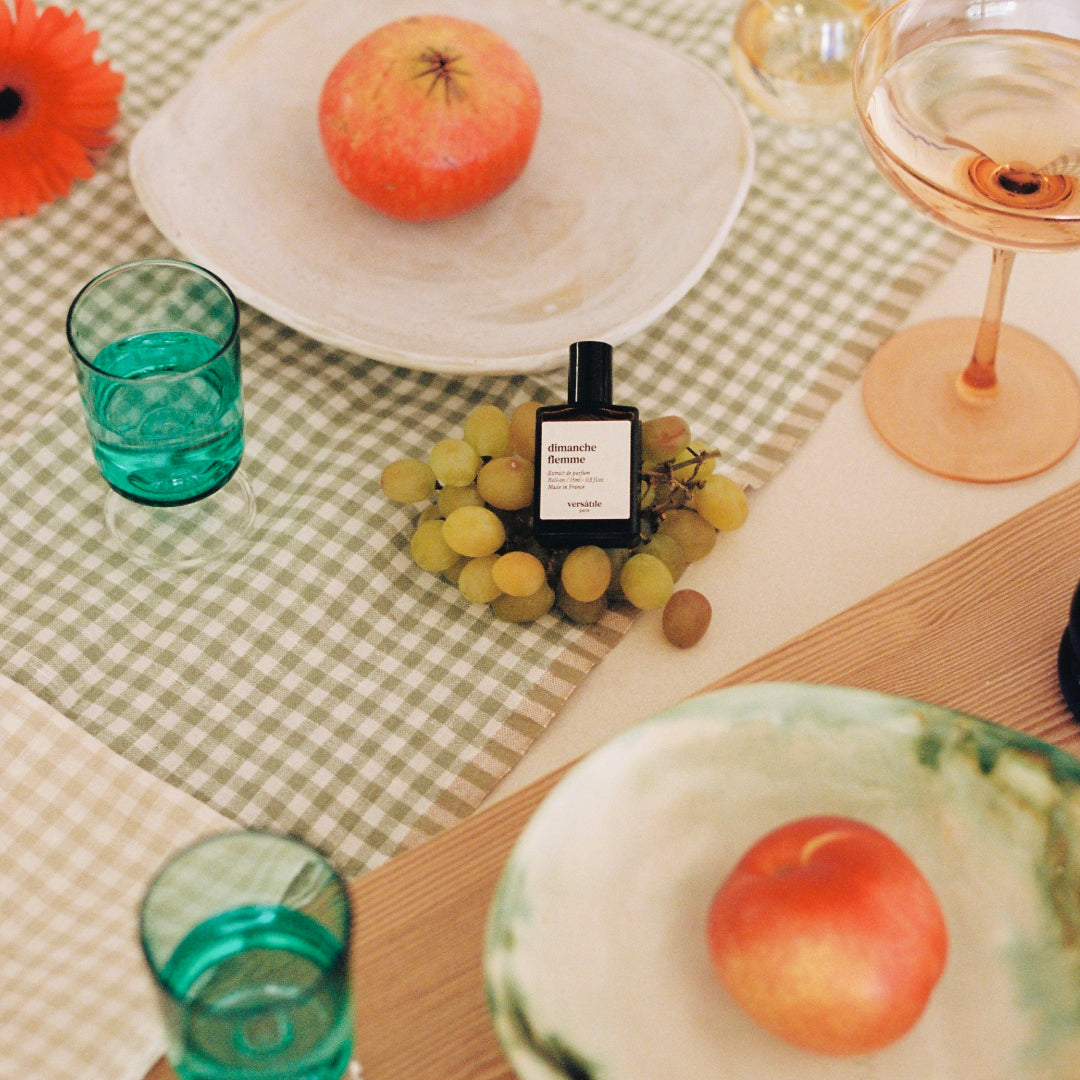 DETAILS

ROLL-ON:
A sensorial and delicate gesture, a versatile fragrance that will evolve according to your skin

NOMADIC FORMAT:
Size doesn't matter: mini format, maxi concentrated. Wherever you want, whenever you want.

CLEAN FORMULA:
Free from alcohol, BHT/BHA, UV filters, dyes, CMR, additives

DURATION OF USE :
4 to 6 months *based on one to two applications/day*
APPLICATION TIPS

1. Unscrew the perfume cover (do not pull)

2. Roll the ball on your skin (not on clothes)

3. Rub your perfume to heat it so it adapts to your skin
INCI

Prunus Amygdalus Dulcis (Sweet Almond) Oil, Parfum (Fragrance), Triticum Vulgare (Wheat) Germ Oil, Tocopherol, D-Limonene, Linalool, Geraniol, Citral, Eugenol, Citronellol
PERFUMER

VERSATILE x FLAIR // Independent creative studio

Camille CHEMARDIN - Junior Perfumer (FLAIR)

Camille has imagined a Neo Musc, reworked into a unique, ultra comforting blend. A velvety – green start (pea shoots, basil) mixed with the fiery – spicy flavor of cardamom. Contrasts: a sparkling lime sorbet and a sweet almond milk. More than 50% musk and a touch of vanilla.

A bomb of sweetness, sparkling, enveloping
FORMULA

Our perfume is made up of a blend of vegetable oils (65%) and a perfume concentrate (35%):

Prunus Amygdalus Dulcis Oil (Spain): Sweet Almond vegetable oil, renowned for its moisturizing and soothing properties.
Perfume - Fragrance (Grasse): The appellation that brings together everything but which never reveals itself! Our perfume contains 23 natural (🌱) and synthetic (🔬) ingredients

HEAD :

🌱 Basil Essence - Egypt
Anise: Aromatic, Fresh

🌱 Bergamot Essence - Italy
Citrus: Tea, Zesty

🔬 Camphor
Aromatic: Eucalyptus, Peppery

🌱 Lemon Essence - Italy
Citrus: Zesty, Citrusy

🌱 Distilled Lime Essence - Argentina
Citrus: Sparkling, Coke

🔬 Linalool
Floral: Lavender, Zesty

🔬 Triplal
Green: Moist, Apple green

HEART :

🔬 Linalyl Acetate
Floral: Bergamot, Lavender

🌱 Cardamom Essence - Guatemala
Spicy: Peppery, Citrusy

🌱 Galbanum Essence - Iran
Green: Carrot, Turpentine

🔬 Geraniol
Floral Rose: Verbena, Lychee

🔬 Ionone Beta
Powdery Floral: Violet, Earthy

🔬 Phenyl Hexenol
Floral Rosé: Green, Zesty

🔬 Isopropoxyethyl Salicylate
Floral White Flowers: Cherry Blossoms, Solar

BASE :

🔬 Globalide
Musky: Powdery, Clean

🔬 Habanolide
Musky: Ripe, Woody

🔬 Heliotropin
Balsamic: Cherry, Almond

🔬 Helvetolide
Musky: Floral, Red fruits

🔬 Muscone
Musky: Floral, Powdery

🔬 Musk T
Musky: Floral, Blackberry

🔬 Polysantol
Woody: Sandalwood, Amber

🔬Timbersilk
Woody: Cedar, Amber

🔬 Vanillin
Balsamic: Almond, Spicy

Triticum Vulgare Germ Oil (Italy): Wheat germ vegetable oil, renowned for its nourishing and softening properties.

Tocopherol (Spain): Anti-oxidant derived from Vitamin E which serves to prevent rancidity of the oily base.

6 allergens in small quantities (less than 0.1%). They are present in natural ones or are used alone, as synthetic notes.
3%
profits donated to the French RUBAN ROSE association, in aid of breast cancer research
SENSORIAL
Application directly to the skin using a roll-on format.
CLEAN
Alcohol-free perfumes, with transparent and clean formulas for all skin types.
SUSTAINABLE
Responsible materials, optimized product and european production
Mild and comforting
Fresh green basil in the start, and then musky scent with mild vanilla, really for calm and lazy days
What a nice description, thank you Sergi !
✨ - Camille
Gentle, sensual Sunday in pyjamas skin scent - this is light but gently musky.
Honestly many of this type of scent do not work for me , but strangely this one is just a delight to wear
Odeurs incroyables mais tenue pas au rendez vous
J'adore les 4 parfums que je possède, chacun est tellement unique. J'apprécie aussi l'éthique et le positionnement de la marque sur le marché. C'est rafraîchissant et super original. Mon petit préféré reste culot thé.
Mais le gros point négatif est la tenue qui est médiocre sur ma peau. Au bout de 3h le parfum a disparu et je n'ai donc pas le plaisir de le sentir évoluer sur moi… vraiment c'est dommage car je dois en ré-appliquer plusieurs fois par jour pour en profiter.
A cause de ca je ne pense pas investir dans d'autres modèles à l'avenir.
Merci pour votre commentaire Aude.
Nous sommes désolés d'apprendre que vous êtes déçue par la tenue du parfum sur votre peau...Chaque personne a une chimie corporelle unique, ce qui peut influencer la façon dont un parfum interagit avec la peau.
L'endroit où vous appliquez le parfum peut également faire toute la différence.
Nous recommandons les points chauds, tels que le cou, derrière les oreilles, dans le creux du coude et sur l'interieur des poignets (attention lorsque vous vous lavez les mains, haha).
N'hésitez pas à sentir nos nouveautés pour voir si celles-ci pourront matcher avec votre peau et vos goûts ! Nous vous remercions d'avoir partagé votre expérience avec nous.
- ✨ Coralie
A QUESTION, CAN WE HELP YOU?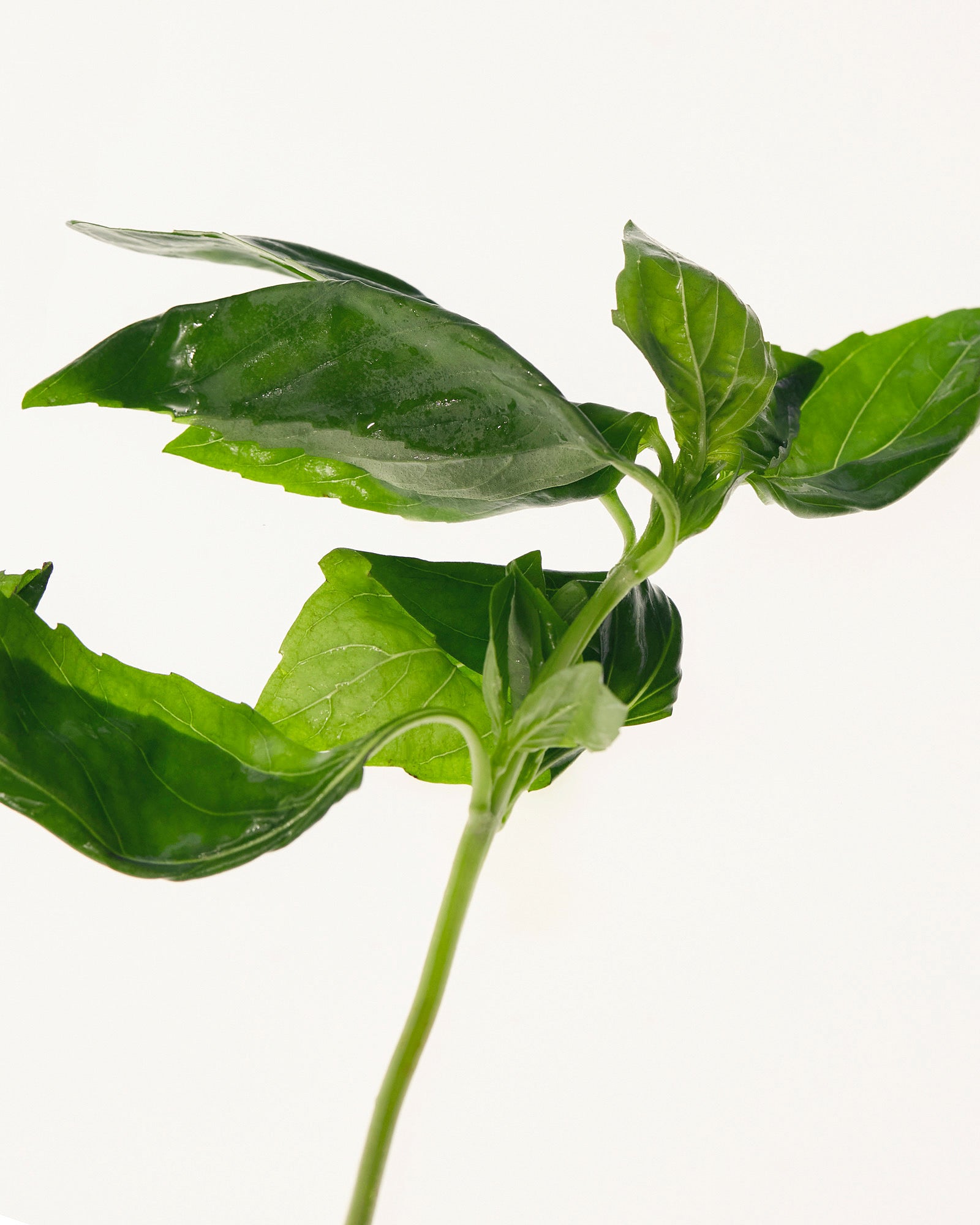 WHAT'S THE SIZE?

Size doesn't matter: 15ml!

Do you find that's not enough? We wanted a light and practical bottle, THE ideal size to always have it with you.

Are you afraid of finishing it too quickly? No panic, our perfumes are ultra-concentrated with 0 product loss (unlike the spray which perfumes clothes, you and the air).

Our 15ml bottles have a shelf life of 4 to 6 months. * on a basis of one to two applications/day *
WHERE TO APPLY YOUR PERFUME?

No rules!

Be and feel free to perfume yourself whenever you want.

We recommend (but do not oblige) you to apply your roll-on (alcohol-free) directly to the skin, wherever you want!

Do you need more ideas? On pulse points such as the neck, wrists, elbow, behind the ears but also on the ends of the hair...
WHAT'S THE COMPOSITION OF THE PERFUMES?

While the formulas are still considered a trade secret, we decide to reveal ours to you.

We've made available all the necessary information to easily understand your product.

For us, transparency is a first step towards information for all.

To find out even more, click here.
HOW LONG LASTING ARE THE PERFUMES?

What's the interest of a perfume that smells nothing and doesn't last on the skin?

Perfume Extract is the most concentrated form that exists in perfumery (20-40%).

Concentrated between 30-38%, our perfumes will diffuse and evolve on your skin throughout the day.
WHERE ARE PERFUMES MADE?

All of our production is French.

Our packaging manufacturers come from France, near Europe and China for samples (no choice). No lies!

Perfume: France
Sweet Almond Oil: Spain
Wheat Oil: Italy
Glass bottle: Recyclable / Italy
PE cover and ball holder: Recyclable / Italy
Glass roll-on ball: Recyclable / Italy
Perfume labels: Recycled and recyclable / France
Perfume case: Upcycled and recyclable / Italy
Perfume card: Recycled and recyclable / France
Sample card: Recycled and recyclable / France
Perfume sample: Recyclable / China
Shipping box: Recycled and recyclable / France

The production of 15ml perfumes is done in the Paris region and the production of our 1ml samples is done in the Paris region in ESATs.

Our perfumes have a total weight of less than 100g and contain less than 3g of plastic.
HOW TO CHOOSE YOUR PERFUME ?

We know how it's difficult to choose a perfume online. We describe our perfumes, with instinctive names, as precisely as possible.

If, despite this, you are in doubt, we recommend that you opt for our discovery box to explore our collection at home.